Dan McNeil is walking the whole of the UK coastline to raise funds for the charity who saved him.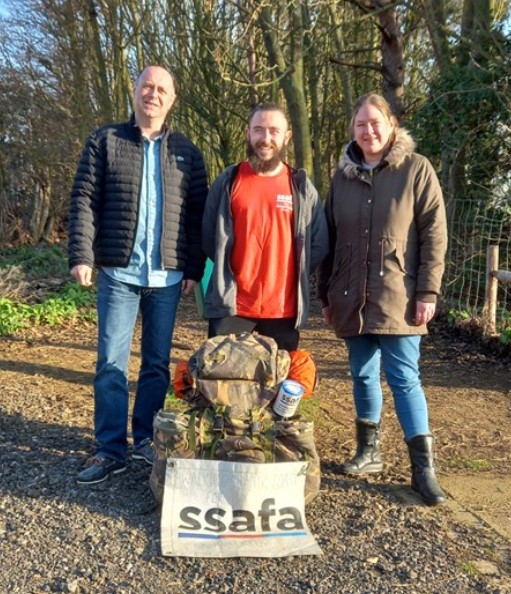 SSAFA, the Armed Forces charity, stepped in to help Dan when his life took a downwards turn. Now, Dan wants to pay back all that SSAFA did for him, and way more besides!
Last March, from his hometown, Dalbeattie, in Scotland, Royal Artillery veteran Dan started his epic journey. He has walked the rugged coast of Scotland and flown down the east coast of the UK. Last week, he met up with some SSAFA representatives at the Royal Norfolk and Suffolk Yacht Club in Lowestoft, Suffolk as he races around the UK in record time.
Dan said:
"Scotland's west coast is all ins and outs, which takes ages and makes you feel like you aren't getting anywhere. It's incredibly beautiful though. The east coast has been really quick. Not so many inlets and coves."
Towards the end of his military career Dan was diagnosed with auto-immune disease and struggled with chronic pain, leading to depression. His life was on a negative spiral and he was contemplating suicide when he asked SSAFA for help.
Dan said:
"I joined the Army when I was sixteen and served in 19 Regiment Royal Artillery. Since returning to civilian life it has been tough for me dealing with chronic pain, depression, and anxiety. In my darkest hour, my SSAFA caseworker turned up at my flat and put £20 on my electric meter and filled my fridge. This simple act of kindness somehow lifted a weight of my shoulders and allowed me to see a way out of my hopelessness. I can't thank them enough for everything they've done.

"A bit later, lockdown challenged my mental health again, especially not having a job and a routine. One day I sat quietly and meditated for four hours, asking the world what I needed to do. Finally the answer came to me: walk."
Dan controls his auto-immune disease symptoms with diet, meditation and exercise. While walking he found his happy place and is delighted when people want to walk some of the coast with him.
Over a year into his challenge Dan met Charlotte, who started to walk with him and became his partner. Together they have walked hundreds of miles.
Dan said:
"It is great when someone wants to walk with you and chat. Sometimes a person who is going through a rough time will walk with me and we will talk about our troubles and how best to keep on top of things. I'm really glad that the dark times I have been through can help others to see that they are not on their own and that things can work out."
Mandy Small, SSAFA Regional Fundraising Officer said:
"I was honoured to meet Dan in Lowestoft. He's so down to earth and unaware of how much of a difference he is making. He is an inspiration to anyone who is feeling lost.

To quote Dan: "Keep the sea on the left and carry on walking. What is the worst that could happen?""
To support Dan, and veterans like him, you can donate here: justgiving.com/fundraising/danwalksuk