In 2021, three Royal Navy veterans planned to sail Estrallita from her home port of Somerleyton on the Norfolk Broads to Poole to mark the anniversary of VE/VJ Day and Operation Dynamo – the evacuation of Allied troops from Dunkirk in late May and early June 1940.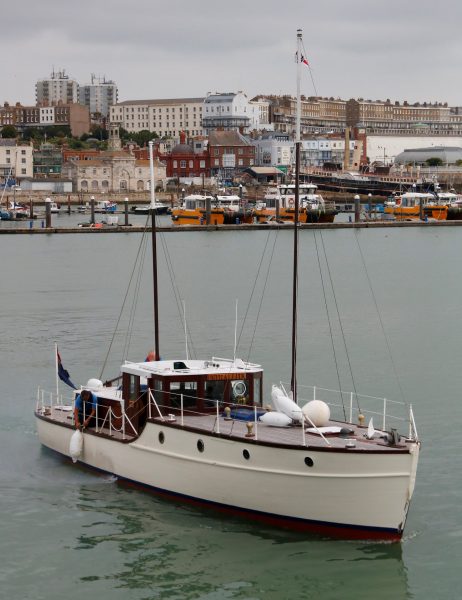 Like many things, circumstance, pandemic, and lockdowns partly scuppered the plan, but she did manage to make a commemorative voyage to Ramsgate and raise money for veterans' charities.
The trio – Estrallita's owner Tony Bilson, Michael "Jack" Hawkins BEM, and Tom Morrison, who all served on HMS Bulwark in the 1970s – has refloated the idea. This time , Tony, Jack, and Tom are doing it to raise funds for SSAFA, the Armed Forces charity.
It had taken Tony five years to restore this vessel, now a national treasure, from being a sinker to its now current former glory – and all at his own expense.
And while "national treasure" is a term bandied around these days, Estrallita really is: she has recently been added to National Historic Ships Register at fleet level and is in distinguished company such as HMS Victory and HMS Warrior.
Estrallita was commandeered and sailed on May 28, 1940 from Poole Harbour and then requisitioned on June 1, 1940, taking part first in Op Dynamo before being further manned by RN crew and used as a harbour patrol vessel in Poole until war's end.
But Estrallita – the "gentleman's yacht" to be sailed on the fundraising voyage for SSAFA – has another claim to fame, at least for people over a certain age.
For a number of years, under the name Rake's Retreat, she was moored in London and used as a "live aboard" accommodation by Hughie Green, star of the ITV show Opportunity Knocks and a former RAF Reserve Officer.
Tom takes up the story of the fundraising voyage, saying:
 "As Royal Navy veterans, we all understand the significance of the brave men who manned Estrallita and her role during that time. This is why we're going to take her along the coast and back to commemorate the brave men of Poole that undertook the epic voyage from there to Dover and on to Dunkirk in 1940.

"We'd planned to do it before, but circumstances were against us and everyone else, so what makes this just as fitting is that we can commemorate the actions of all services, but particularly the Royal Navy, in the 40th anniversary year of the Falklands Conflict raising money for SSAFA in the process."
"We all know that times are a bit tough for people at the moment, but anything you can spare will go a long way to helping SSAFA support our Forces and their families. It's also a way to remember the sacrifices made down in the Falklands in 1982, and Estrallita's role in the 'Miracle of Dunkirk' in 1940 because she really is the Little Ship that keeps on giving from then to the present day."
If you can help, then visit justgiving/Estrallita to donate.
Estrallita begins her voyage on May 18. You can follow her progress on Twitter (@estrallita1934), Instagram (@estrallita1934), and Facebook (Rakes Retreat now Estrallita A Dunkirk Little Ship).
A number of sponsors, including Norfolk Yacht Agency and Dean & Wood, are supporting the fundraising journey. If any others would like to sponsor Estrallita, then please contact Tony Billson at akbillson@gmail.com.
For more information, visit ssafa.org.uk.