Last month, 18 Openreach employees from across the country trekked to the highest peak in North Africa, Mount Toubkal, raising £45,496.73 for SSAFA.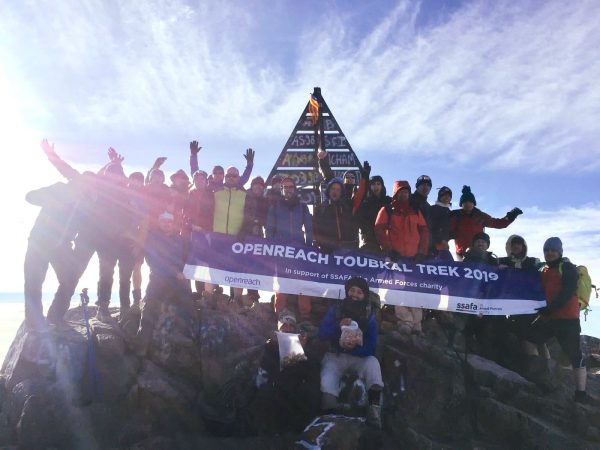 The trek commenced on Thursday 19 September and the fundraisers began their ascent on Mount Toubkal, which stands at 4,167m, on Friday 20 September.
The trekkers reached the summit at 08.00am on Saturday morning, before returning to Marrakech to enjoy a day of rest before flying home.
This is the third overseas trek organised by SSAFA and Openreach, with their first trek in 2017 to Iceland and second to Nepal in 2018. Overall the treks have raised £135,000.
James Grant, Head of Corporate Fundraising & Events at SSAFA said:
"We are extremely grateful to the Openreach team for their outstanding efforts in support of SSAFA, the Armed Forces charity."

"They did a superb job in completing such a physical challenge but also in raising such a significant amount towards the operation of our crucial Forcesline helpline. Congratulations and our sincere thanks go to all concerned."
If you would like to find out more about fundraising for SSAFA, please visit ssafa.org.uk
SSAFA, the Armed Forces charity, provides lifelong support to anyone who is currently serving or has ever served in the forces, and their families. This includes both regulars and reserves.
Notes to editors
SSAFA, the Armed Forces charity, has been providing lifelong support to our Forces and their families since 1885. Last year our teams of volunteers and employees helped more than 82,000 people in need, from Second World War veterans to those who have served in more recent conflicts, and their families. SSAFA understands that behind every uniform is a person. And we are here for that person – any time they need us, in any way they need us, for as long as they need us.