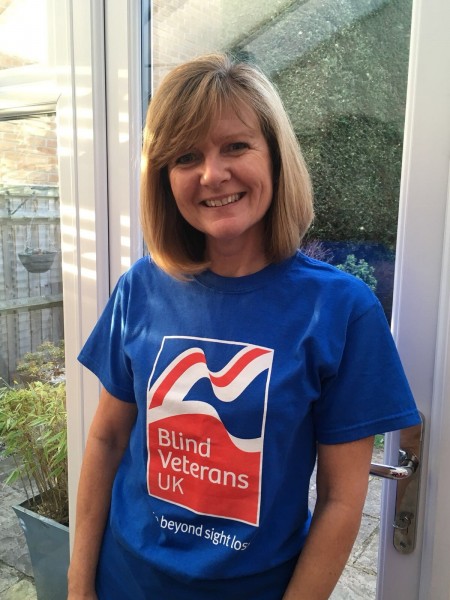 A woman from Oxford is currently training to compete in this year's London Marathon for Blind Veterans UK, the national charity for blind and vision-impaired ex-Service men and women.
Sue Cassettari, 55 and from Kidlington, has long been aware of the charity, which provides free lifelong support to veterans living with sight loss. Her mother, Angela, is vision-impaired, as is her friend, Peter. Angela has age-related macular degeneration (ARMD) and glaucoma, meaning she has no sight in one eye and very, very limited sight in the other. Peter also has ARMD and almost no sight.
Peter served in the Royal Air Force as part of his National Service, meaning he's eligible for the support provided by Blind Veterans UK. He's been a beneficiary since 2013. Sue says: "The support they've both received from the organization has been fantastic. They've been to the charity's training and rehabilitation centres in Llandudno and Brighton and had a great time at both.
"In 2016, I also had the opportunity to accompany Peter to the charity's Remembrance service in London. It was my first contact with the organisation and I have to say, it was amazing. I really, really loved being part of such a special occasion."
Sue's decision to take part in the iconic London Marathon is just the latest chapter in her love of running, which started seven years ago. She says: "In the beginning it was totally alien to me, I joined Headington Road Runners beginners group and with their help and support I have gone from strength to strength, building up from 10ks to half marathons and now this!  The training for the marathon is very demanding and without the support from HRR and the support from my family I would never be able to do it. HRR is a great Club and I have made many very good friends and we all support each other in our personal challenges.
"You definitely have to be a bit crazy to do a marathon but I thought, if I don't do it now, I never will."
While Sue turns her attention to fundraising, she admits the opportunity to raise money for a charitable cause is something she's also embracing. She explains: "It's very rewarding when you do something like this for charity. I did the Three Peaks last year and it's safe to say that when the going gets tough, it's the thought of the charity that keeps you going.
"Everything from the fundraising and training to the race itself are all a massive challenge. At the same time, that's what makes it so special, and I couldn't be happier to be involved."
To support Sue as she prepares to take on the London Marathon for Blind Veterans UK, please visit: https://uk.virginmoneygiving.com/susan-cassettari-SAVMLMBONDS3332018-842627.
The Virgin London Marathon takes place on Sunday 22 April and is one of the most popular marathons in the world. During the race, starting in Greenwich Park and finishing on The Mall, participants will experience a beautiful 26.2 mile route past London's most magnificent landmarks.
Blind Veterans UK was founded in 1915 and the charity's initial purpose was to help and support soldiers blinded in WWI. But the organisation has gone on to support more than 35,000 blind veterans and their families, spanning WWII to recent conflicts including Iraq and Afghanistan.
For more than a century, the charity has been providing vital free training, rehabilitation, equipment and emotional support to blind and vision-impaired veterans no matter when they served or how they lost their sight. Visit blindveterans.org.uk/support to learn more about the charity and how you can support its vital work today.
For all media enquiries please contact: Felix Arbenz-Caines, PR Assistant, Blind Veterans UK, 12 – 14 Harcourt Street, London W1H 4HD, E: Felix.Arbenz-Caines@blindveterans.org.uk, T: 020 7616 7941
Notes to Editor
Blind Veterans UK
Blind Veterans UK is a national charity that believes that no-one who has served our country should have to battle blindness alone. Founded in 1915, the charity provides blind and vision impaired ex-Service men and women with lifelong support including welfare support, rehabilitation, training, residential and respite care.
Find out more at: blindveterans.org.uk, follow us on Facebook at: facebook.com/blindveteransuk and on Twitter at: twitter.com/blindveterans.