A blind veteran from Oxfordshire is set to march at the Cenotaph in London this Remembrance Sunday (10/11) with the charity Blind Veterans UK.
Ken Cook, 95 and from Wattlington will be marching at the Cenotaph as part of the national Remembrance Sunday commemorations with more than 100 other blind veterans supported by Blind Veterans UK, the national charity for vision-impaired ex-Service men and women.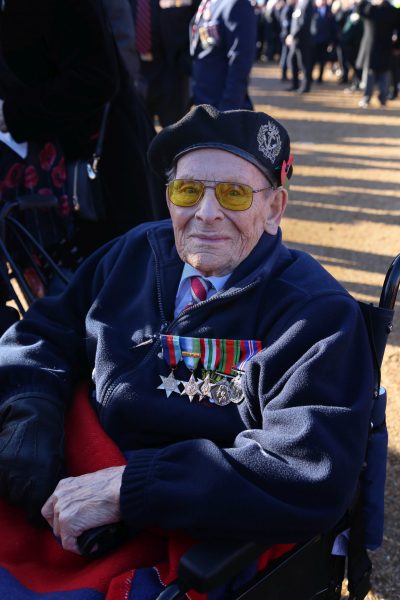 Ken joined the Royal Navy in 1942 and completed his boys training in Ipswich. Upon becoming 18 he joined a convoy of Motor Gun Boats and started anti-submarine patrols and mine sweeping in the Mediterranean. He took part in various missions during the Second World War including the invasion of Anzio in 1944. Despite being attacked by aircraft on countless occasions, Ken made it out of the war unscathed and left the Navy in 1946.
Ken lost his sight much later in life due to macular degeneration, a leading cause of sight loss in older people. Fortunately, he found out about Blind Veterans UK and started receiving support from the charity in 2016.
Ken says:
"I don't think I could have existed these last few years without the support of Blind Veterans UK, they saved me. It's the things that allow you to keep your independence that make the biggest difference. I've been given a special reader that blows up documents to a huge size. That means I can still read my letters.

"The best thing that's happened though is the lovely home visitor volunteer that Blind Veterans UK set me up with. Sue visits me every week and it is always the highlight of my week. She helps me with various bits and bobs and it's great just to have a cup of tea and a chat."
Ken recently joined fellow blind veterans on a tour of the battlefields in Normandy. He says: "It was hugely moving to be over there. We held a small service at every beach to remember those who died there and I was asked to read out the famous "they shall not grow old" poem."
Ken will be marching with 100 other blind veterans at the Cenotaph this Remembrance Sunday. He says:
"It was my first time marching last year and I'm so excited to be going back.

"I enjoyed every minute. The crowds make you feel very important and it does leave you feeling very proud. It is emotional.

"I will especially be remembering my father, who served as a Staff Sergeant Farrier in France during the First World War."
Blind Veterans UK was founded more than 100 years ago to support those blinded in the First World War. Now, the charity supports veterans regardless of when they served or how they lost their sight.
Chief Executive of Blind Veterans UK, Major General (Rtd) Nick Caplin CB says:
"Ken will rightly be proud to march with our blind veterans this Remembrance Sunday. This is the time of year when we reflect on the sacrifice and service of all our members of the Armed Forces and their families.

"Today we support more blind veterans than ever before in our history, but we know there are many more who still need our support to rebuild their lives following their sight loss. I would encourage anyone who thinks they know someone who could be entitled to our support to get in touch today."
Visit blindveterans.org.uk to learn more about the charity and how you can support its vital work today.
Notes to Editor
Blind Veterans UK helps vision-impaired ex-Service men and women of every generation rebuild their lives after sight loss. Since 1915 we've provided rehabilitation, training, practical advice and emotional support to tens of thousands of blind veterans.
Find out more at: blindveterans.org.uk and follow us on Facebook at: facebook.com/blindveteransuk and on Twitter at: twitter.com/blindveterans.
For all media enquiries please contact:
Mark Wheeler – PR Manager 020 7616 7980 / 07894 930352 / mark.wheeler@blindveterans.org.uk