The death of a loved one is always painful experience, and often even more so if unexpected.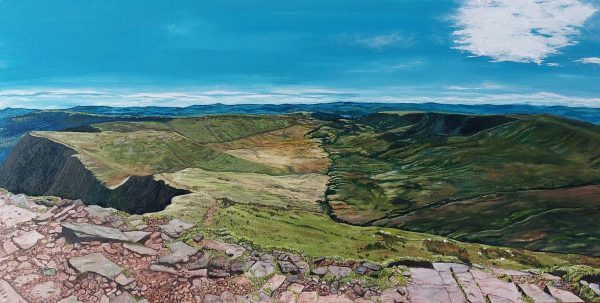 No two people react in the same way, and no two people remember the person gone in the same way.
Laura Evison, a florist from Wrexham, had her partner Mick in her life for 17 months. Mick – who served in the Durham Light Infantry – and Laura enjoyed time together outdoors, walking in the hills of north Wales and further south, including in the Bannau Brycheiniog (Brecon Beacons), with Pen y Fan his favourite place.
They met soon before lockdowns were introduced across Wales and the rest of the UK. Lockdowns affected them both and prevented them from going on their beloved walks in the beautiful Welsh countryside.
Painting was Laura's release during the lockdowns, her way of managing the mental strain they caused. Mick, who had been troubled by PTSD and mental health problems, found coping too hard and took his own life during one of the lockdowns.
Laura describes Mick as
"… a devoted father, son, brother, and uncle, and friend to many", adding: "During Covid it became very hard for Mick, especially not being able to go on walks, and so his mental health suffered."
She has continued painting as an outlet for her talents and emotions since Mick's death and lockdown restrictions were lifted, visiting the hills and scenery that meant so much to them.
But Laura's painting is not just for her memories of the time spent with Mick: it is also to encourage others to find the peace and sanctuary they felt in nature.
More than that, it is now – with a painting of one of their favourite views from the top of Pen y Fan – also to raise money for SSAFA, the Armed Forces charity and for the upkeep of paths in the Parc Cenedlaethol Bannau Brycheiniog (Brecon Beacons National Park).
Laura is offering her painting in a draw – to be made on June 18, Mick's birthday – on Just Giving. Entry to the draw is £2.50 per chance, so £5 buys two chances, £10 four, and so on.
To enter the draw, and for full details, visit justgiving.com/crowdfunding/inspiredbymick.
Laura ends, saying:
"I always feel lucky that I was given the chance to have had Mick in my life even though it was a short time. Our walks brought us so much joy at times & we visited beautiful places so being able to share them with others to hopefully help or encourage them to visit or just to appreciate them means so much and it is all inspired by the memory of Mick, a lovely man."
SSAFA offers support to people with an Armed Forces' connection who have suffered a loss, including suicide. For more information, visit ssafa.org.uk/get-help/mental-wellbeing/bereavement-support-groups.