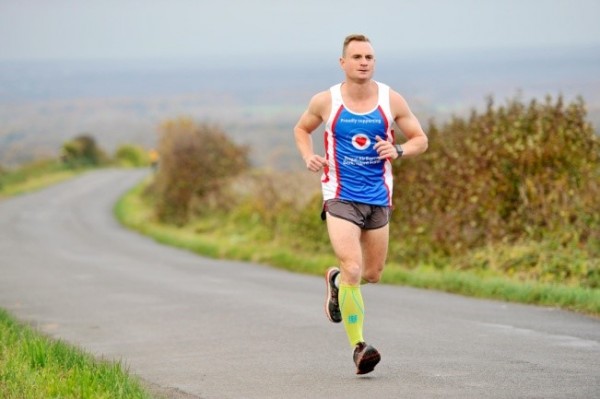 Marathon man Jon Ward dons his trainers for his 99th marathon out of 100 this weekend as he lines up to compete in the Scottish Borders Marathon.
Jon, a Corporal in the Royal Air Force, set himself the ambitious target of completing 100 official marathons, to mark the RAF centenary. This weekend will see him take on his 99th race, with his impressive challenge coming to an end in Gravesend on 1 April, 2018, 100 years to the day since the RAF was formed.
Jon's managed to fit in his running around his busy schedule as a Logistics Mover at RAF Lossiemouth, one of the UK's main operating fast jet bases and home to the Typhoon.
Spurring Jon on in this incredible challenge is his target of raising money for the welfare of his fellow RAF comrades and retired RAF veterans, by supporting the RAF Benevolent Fund. The Fund is the RAF's leading welfare charity providing financial, emotional and practical help whenever it is needed.
Since 2016, the RAF Benevolent Fund has spent more than £500,000 supporting personnel stationed at RAF Lossiemouth. This includes individual grants to RAF servicemen and women, as well as funding for the Airplay youth support scheme, access to relationship counselling sessions with Relate, funding for an AstroTurf and lighting for the play area as well as support for the station's annual families day event.
Thirty-two-year-old Jon said: "It's hard to believe that I'm nearly at the end of my challenge. Just two left before I join the 100 Marathon Club!
"I got my official 100 marathon vest delivered the other day which is pretty exciting, it's all starting to feel quite real now that the end is in sight and I can't wait to wear it with pride.
"It's been an amazing journey that's exceeded all of my expectations. When I started this challenge back in May 2016 I didn't think I would achieve a sub-three hour pace at any point. So when I ran a 2:59 back in December I was ecstatic. It was definitely a highlight for me.
"And in all honesty, I can't say I've really had any lows. No matter what I have put my body through I have still loved every minute of this crazy challenge!"
He has completed marathons in 17 different countries across the world, including the original marathon course in Greece, America, the Caribbean and not forgetting The Falklands, while on deployment.
As his challenge is coming to an end, many have asked what's next? Surely it's time for a break?
Jon continues: "So far I have signed up for both the Paris and London marathons and the Great Britain ultra marathon to name a few.
"It's been a pleasure raising money for the RAF Benevolent Fund in the process. Being a serving member of the Royal Air Force I see first hand how they support the RAF Family. And who knows, you may even catch me running as Ben Elephant in the not too distant future so stay tuned for that!"
John Trampleasure, Director of Fundraising and Communications at the RAF Benevolent Fund said: "Without the generous support of people like Jon we wouldn't be able to do the work we do. His commitment and boundless energy has seen him take on a huge feat, one which we are incredibly grateful for and proud of.  I'd like to thank him for choosing to support the RAF Benevolent Fund."
If you would like to sponsor Jon you can visit his Just Giving page at  www.justgiving.com/fundraising/jon-wardraf100challenge
ENDS            
For more information and high res images please contact:
Brooke Harrison-Davies, Communications Executive at RAF Benevolent Fund
E: brooke.harrison-davies@rafbf.org.uk | T: 020 7307 3351 | M: 07825 172447
RAF Benevolent Fund: The Royal Air Force Benevolent Fund is the RAF's leading welfare charity. We exist to support current and former members of the RAF, their partners and dependants, whenever they need us. In 2016 we spent £17.6m supporting more than 65,000 members of the RAF Family.