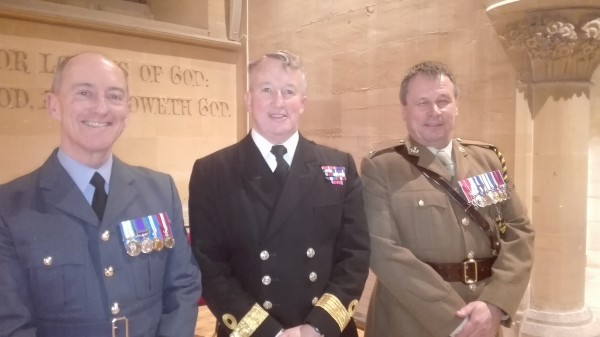 On 16 March, at St John's Place Lower Bemerton Salisbury, the Wiltshire Alabaré Ambassadors held a fundraising evening entitled "Personal Reflections from the Falklands War and its Aftermath". Overall nearly 120 were present and in excess of £2,500 was raised for Alabaré.
The official guests were the Mayor of Salisbury, Derek Brown OBE, Brigadier Hodder, CEO of the Wessex Reserve Forces Cadets Association, Wing Commander Vincent Thomas, Second in Command at Boscombe Down and Major Richard Rimmington MBE, Royal Logistic Corp. The major sponsors were the Mark Allen Group, Chemring Countermeasures and Our Wilton.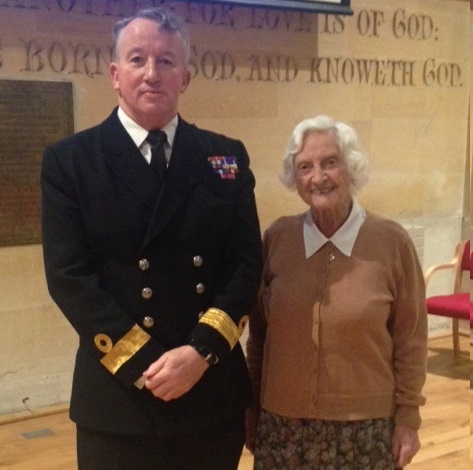 The overall aim of the evening was to recall the impact of war, operations and a service career on people, both those serving and their families and friends – how this can last forever and to highlight the impact on their lives. To help those veterans, who need help in their lives, fundraising was vital.
The speakers were Commodore Jamie Miller CBE RN, Sara Jones CBE DL JP, Sir Francis Richards KCMG CVO DL and Venerable Stephen Robbins CB. The Mayor of Salisbury Derek Brown OBE closed the presentations part of the evening.
The audience gave a spontaneous round of applause when they realised that veteran Wren, Eve Warton, aged 94 was present. Eve trained pilots in WW2 to land on aircraft carriers.
In summarising the evening, the Chairman of Wiltshire Alabaré Ambassadors Commodore Richard Lord CBE said "It has been a privilege for the Ambassadors to arrange this evening on the 35th Anniversary of the Falklands. Those who were affected by this war and other wars are very much in our thoughts.   We are delighted about the funds raised and we know that this will be put to very good use by Alabaré".
-Ends-
For more information or to arrange an interview call Sarah Booth on 01722 344485.
Notes
At Alabaré we support people to overcome the barriers of homelessness, mental ill-health and learning disabilities in-order to have a home, health, choice and independence.
Alabaré Christian Care and Support provide the highest standards of accommodation and support to disadvantaged and vulnerable people in our communities in order that they can have a home, health, choice and independence. Since 1991, Alabaré have been working with people facing disadvantage through homelessness, mental ill-health, learning disability or a combination of these.  We provide housing and personalised support based on the individual needs and aspirations of each person, tackling underlying causes and giving them the skills and confidence to move forward with their lives. www.alabare.co.uk