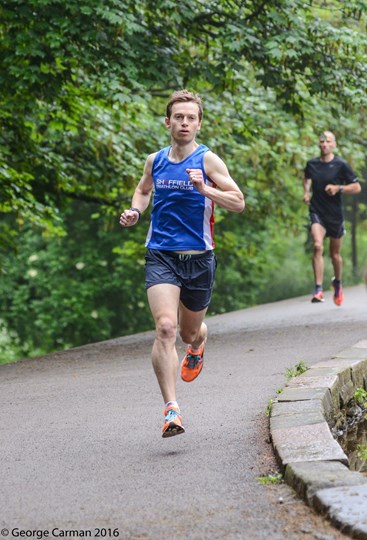 A physiotherapist and Team GB athlete from Sheffield is competing in the London Marathon this April for Blind Veterans UK, the national charity for blind and vision-impaired ex-Service men and women.
Steve Canning, 37 and originally from Haywards Heath, Sussex, will be competing in the world famous event for the third time, and will be running in honour of his Great Grandfather, Leonard Howell, who received support from the charity over 100 years ago and created a legacy which continues to inspire his family to this day. He says: "Leonard fought in the Battle of the Somme in 1916 until a shrapnel wound left him completely blind. Upon returning to the UK, he was contacted by Blind Veterans UK, which was still very much in its infancy in those days. They initially helped him train as a masseuse, wherein he joined the Incorporated Society of Trained Masseuses. It was after that that he trained to become a physiotherapist."
The profession of physiotherapy has now stuck with the family, with Steve himself a fourth-generation practitioner. He explains: "My Grandfather, Bryan, trained to become one himself, as did Bryan's children. I grew up above the family practice and from as young as I can remember, I always wanted to follow in the family footsteps! I studied in Sheffield and haven't looked back since. The family practice is still going in Haywards Heath, though, both my uncle and aunt work there still."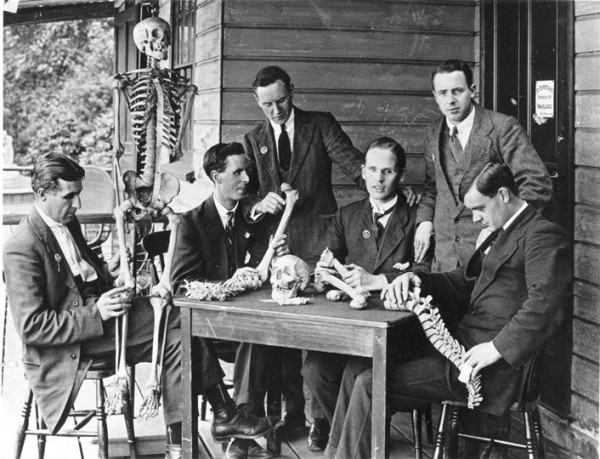 He continues: "I was too young to remember meeting Leonard myself but I heard so many family stories, it's clear just how much of an inspiration he was for so many. One of our family members has written a book about him, and he himself was quite into his poetry; he even wrote one about Louis Braille! There's an incredible black and white photo of him learning about the human body with a number of other blind veterans, including Sir Arthur Pearson, who founded the charity. I have it on my wall in my practice and get asked about it all the time – I absolutely love it. "
Steve's familiarity with the charity from such a young age, allied with the 100 anniversary of the Battle of the Somme, which took place last year, meant he was motivated to help the charity continue its support of blind and vision-impaired ex-Service men and women.
Outside of his profession, Steve is an accomplished sportsmen, having completed the London Marathon on three separate occasions, as well as the York, Manchester and Edinburgh courses. In addition, he has represented Great Britain in both the World and European Triathlon Championships. This year, Steve has his sights set on bettering his own personal best of two hours 45 minutes; an inconceivable prospect for most, though for Steve, it simply means a relentless and punishing training schedule.
He says: "If you finish under two hours 45 minutes you get into the championship category for the next time, so that's what I'm aiming to achieve. It's going to be another six weeks of hard training but it'll be worth it. I'm currently running at least 50 miles a week and I recently took part in an event called the Grindleford Gallop, which was a lovely hilly course that ran through the Peak District and into Chatsworth Estate."
To support Steve as he takes on the London Marathon for Blind Veterans UK, please visit: justgiving.com/fundraising/SCanning
Blind Veterans UK was founded in 1915 and the charity's initial purpose was to help and support soldiers blinded in WWI. But the organisation has gone on to support more than 35,000 blind veterans and their families, spanning WWII to recent conflicts including Iraq and Afghanistan.
For more than a century, the charity has been providing vital free training, rehabilitation, equipment and emotional support to blind and vision-impaired veterans no matter when they served or how they lost their sight. Visit blindveterans.org.uk/support to learn more about the charity and how you can support its vital work today.
For all media enquiries please contact: Felix Arbenz-Caines, PR Assistant, Blind Veterans UK, 12 – 14 Harcourt Street, London, W1H 4HD, E: Felix.Arbenz-Caines@blindveterans.org.uk, T: 020 7616 7941
Notes to Editor 
Blind Veterans UK
Blind Veterans UK (formerly St Dunstan's) is a national charity that believes that no-one who has served our country should have to battle blindness alone. It provides blind and vision impaired ex-Service men and women with lifelong support including welfare support, rehabilitation, training, residential and respite care.
The charity needs £100 million over 5 years to provide lifelong support to blind ex-Service men and women. Find out more at: www.blindveterans.org.uk, and follow us on Facebook at: www.facebook.com/blindveteransuk and on Twitter at: twitter.com/blindveterans.