TV broadcaster and journalist, Piers Morgan, is set to appear on the Christmas special of ITV's prime time game show, Who Wants To Be A Millionaire?, and he will be playing to win funds for bereaved children's military charity, Scotty's Little Soldiers.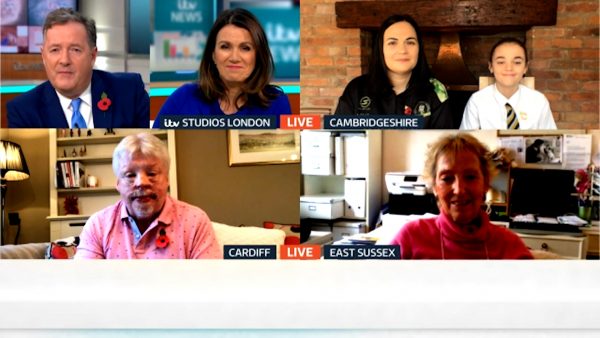 Scotty's Little Soldiers was founded in 2010 by war widow Nikki Scott, a year after her husband, Corporal Lee Scott, was killed in action in Afghanistan. Nikki saw the devastating impact on their two young children and wanted to help others in the same situation.
Piers' brother, Jeremy, is a serving Army Colonel with four children, so Scotty's Little Soldiers is a charity close to his heart.
Scotty's is always there for bereaved British Forces children and young people to remind them they are not alone. This includes offering wellbeing care and providing educational support and grants, respite breaks for families that need to get away, and gifts at extra difficult times of the year. Scotty's also connects bereaved Forces families with others in the same situation by arranging events and activities to help them to feel part of a supportive community.
Piers knows first-hand what it is like to lose a parent at a young age, as he was just a baby himself when his father tragically died. His mother re-married and Piers has a very close relationship with his stepfather, Glynne Pughe-Morgan.
Piers has previously shown his support for Scotty's Little Soldiers and he recently talked highly of the charity on ITV's Good Morning Britain during an interview with Scotty's founder Nikki Scott and her 12-year-old daughter Brooke, who was seven-months old when her father was killed whilst serving his country.
Speaking of appearing on Who Wants to Be A Millionaire? and selecting Scotty's as his charity, Piers said:
"I can't think of a more deserving charity than Scotty's. One of my brothers is a serving army colonel with four daughters, so I know only too well the enormous stresses and strains put on military families when their loved ones are serving their country in combat, and the huge relief when they return safe and well. But sadly, some heroes do not come home and Scotty's does wonderful work in helping families left bereaved. I just hope I don't let them down, and raise as much money as possible!"
Nikki Scott, Founder of Scotty's Little Soldiers said:
"We are so honoured that Piers has chosen to play Who Wants To Be A Millionaire? for Scotty's. It means so much to have his backing and is a real boost to us as a charity after a particularly tough year for the bereaved Forces children we support. We'll be glued to our TV screens and watching with bated breath."
Who Wants To Be A Millionaire? is hosted by Jeremy Clarkson, with whom Piers has a legendary long-held feud, meaning the show, which will air on ITV at 9.30pm on Boxing Day (26 December), promises to be a great watch!