A blind veteran from Plympton in Plymouth has thanked military charity Blind Veterans UK for training him up on a specially adapted smartphone during lockdown, allowing him to stay in touch with the outside world during the period of social isolation.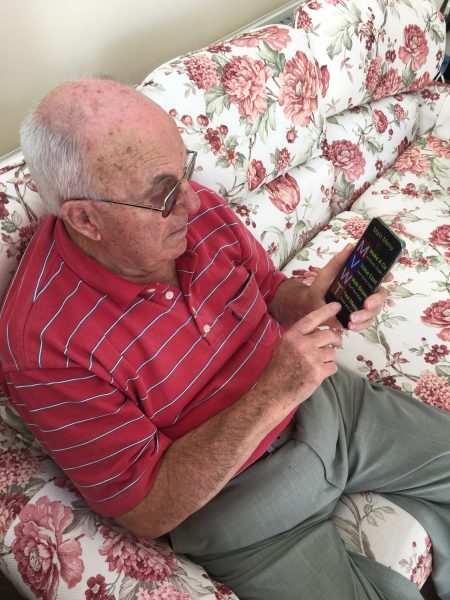 86-year-old Ron Zaple attended a Blind Veterans UK training and rehabilitation week in Western-super-Mare last year, where he saw other blind veterans using their Synapptic smartphones. He says:
"I heard how great these little devices were for keeping in touch with family and getting online, even when severely sight impaired. So I requested one and Blind Veterans UK kindly got one for me."
Ron underwent some initial basic training but couldn't quite follow and struggled for some time. Then lockdown happened making, already isolated, sight-impaired people across the UK more isolated than ever before.
Ron got in touch with his Blind Veterans UK Support Worker, who arranged some one-to-one training over the phone with Technology Practitioner Dan. Following a weekly training schedule, Ron was able to use his Synapptic phone to text and email his family and friends as well as search the internet and listen to the radio, keeping him fully connected with the outside world during the Covid-19 pandemic.
Ron says:
"Without the training on this phone I don't know what I would have done during lockdown. I didn't go out at all so it was the only communication I had with the outside world. I was able to keep in touch with my children and grandchildren in Australia and the UK, as well as keep up to date with the local and world news. I tell you what, it was an absolute lifesaver."

He continues: "I can't thank Blind Veterans UK enough, and in particular Dan, whose expertise, patience and good humour were second to none."
Ron served as an Engineer with the Merchant Navy between 1956 and 1962 including during the Suez Crisis and Icelandic Cod Wars.
It was later in life at the age of 76 that Macular Degeneration stole his sight which has been in steady decline ever since. Luckily, in 2017, Ron found out about Blind Veterans UK during a visit to his local eye hospital, who have been supporting him since then.
He says:
"In 2017 my life changed. I've had so much fantastic support from the charity I wouldn't know where to start. They've enabled me to remain living independently at home by giving me equipment and training so I can do things for myself without relying on other people. Normal things that sighted people take for granted like reading the post. Well I couldn't do that until Blind Veterans UK gave me my magnifier and now I can get my post sorted. The day I found out about Blind Veterans UK was one of the best days of my life."
Blind Veterans UK has adapted its service to support its 5,000 beneficiaries, 90% of whom are over 70 and at an increased risk from Covid-19. The National Support Service will help blind veterans through this period of social isolation.
Nicky Shaw, Blind Veterans UK Director of Operations said:
"Living in isolation, blind veterans need our help right now with daily tasks, such as the shopping, and constant emotional support through this difficult time. So we are temporarily changing our service and mobilising our staff to provide practical, essential support to help the most vulnerable.

"There is so much that we can and must do to support blind veterans to help them maintain physical and emotional wellbeing, and to feel safe, reassured and cared for during this crisis."
You can keep updated on Blind Veterans UK's response to Covid-19 at blindveterans.org.uk/coronavirus where you can also find out more about supporting the charity to make this new service possible.