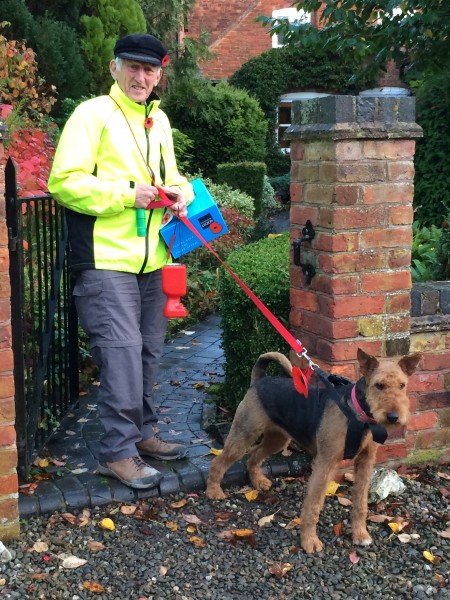 A pup called Poppy, a two-year old Airedale terrier, has been helping her owner, Colin Stegeman collect for The Royal British Legion in the Shropshire village of Worthen.
Accompanying 82 year old, former RAF serviceman, Colin, on his rounds and home visits, Poppy the pup is a big hit with the villagers and even sports her very own specially fashioned poppy harness. A talking point for many of those living in the village, Poppy has been aiding Colin in selling poppies for this year's Appeal, as well as helping her owner spread the word about the Legion's work and its 2017 message – Rethink Remembrance.
Colin, who served two years in the RAF through National Service, has been a poppy seller since 2010 after moving to Shropshire from Yorkshire with his wife, Margaret, to be closer to their family after she was diagnosed with cancer. He joined the Legion after getting to know some of the villagers, including a Second World War Navy veteran, and began to become more involved with the local branch.
Colin said: "Poppy is our fifth Airedale terrier we have had and is a rescue dog that didn't have the best start to life. However, having had her for just over a year I can say she is absolutely lovely with people and gets thoroughly excited when we go on our rounds and she has been a big hit with the locals, stopping people in their tracks. My wife and I adore her and she has brought so much joy to our lives and allows us to take our minds off Margaret's illness."
Airedale terriers were the favoured British breed in the First World War to carry messages from the trenches to HQ as messenger dogs and were said to be the only breed able to stand up to gun fire and explosives.
A former electrical engineer, Colin joined the RAF at the age of 22 and worked within the salvage and repair unit, working with vampire fighter jets and travelling the country servicing and repairing early flight simulators known as Link Trainers. Colin also aided in the logistics behind the parachutist drops during the Royal Tournament at Earls Court, London. After two years in Service he left to pursue an engineering career and also met and married his wife, with who he went on to have two children and four grandchildren.
Colin added: "I am always honoured to collect for The Royal British Legion around the village. I want to do my bit for all those that have served past and present and promote the good work they do in providing much needed services to the Armed Forces community."
The Royal British Legion once again this year encourages people to rethink what Remembrance means. The poppy and the work of the Legion are often associated with the First and Second World Wars and elderly veterans, however the charity is calling on the public to reconsider what the poppy stands for and wear it in support of the Armed Forces community, past and present.
ENDS