Leading Armed Forces charity Poppyscotland is hosting a lunchtime event next month as it seeks to raise awareness of the value of identifying as an Armed Forces family at school enrollment.
The open day at its Inverness Welfare Centre in the heart of the Highland capital will highlight the educational support available to families in the North of Scotland as well as offering help in areas such as health, employment, housing and finance.
Nina Semple, the Welfare Services Manager at Poppyscotland Inverness, said: "The life experiences that children of Armed Forces families have can be distinct and unique. Schools that know of this and work closely with parents who serve or have served can be helpful to the education of their children.
"On the school registration form, there is a section where you can indicate that your child is part of an Armed Forces family. Giving this information will help the school to support your child as well as they can. Schools have a broad range of experience and teachers will work with parents and carers to decide on the best type of support that could be given to the child – and for what length of time. Our Open Day next month will allow veterans and their families to find out more about these issues."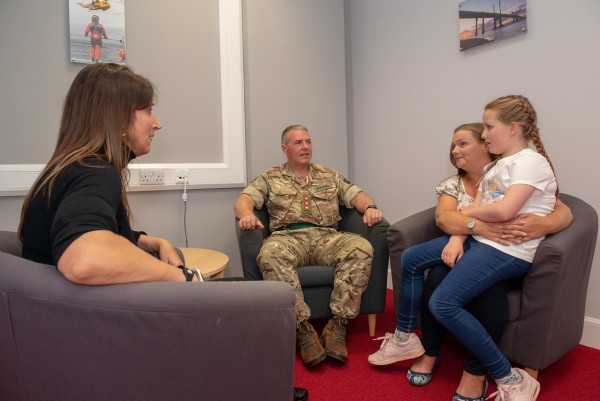 The event, which is taking place on Tuesday, 9th October, from 12-2pm, will bring people together in an informal setting to help them understand what support is available and how to access it. All serving or former serving personnel in the North of Scotland, including Reservists and family members, are welcome to come along.
Nina added: "Poppyscotland believes that our Armed Forces community deserves special support in recognition of the sacrifices made through their Service. We also believe that knowing where to turn for advice when times get tough is the key to a better future. And that's where the Poppyscotland team can help."
Moira Leslie, Education Programme Manager at The Royal Caledonian Education Trust, and Lou Kinnear, of Highland Council MLG (Education), said they "welcomed and are delighted to support this initiative by Poppyscotland", adding: "By identifying themselves to their child's school, veterans are enabling the school to ensure that the appropriate supports are in place should they be needed."
Also in attendance will be representatives from the Military Liaison Group which supports the needs of the local Service community in an educational context. To contact Poppyscotland Inverness, which is located in Strothers Lane, please call 01463 710 300, or email: inverness@poppyscotland.org.uk.
Notes to editors:
For further information please contact David A. Findlay, PR Manager at Poppyscotland, on 0131 550 1580 or 079797 35611, or email at d.findlay@poppyscotland.org.uk.
Caption information: Poppyscotland Welfare Services Manager Nina Semple (left) meets with a military family to offer help and guidance at the charity's Inverness Welfare Centre.
Picture credit: Highland Dreams Photography.
Poppyscotland provides life-changing support to the Armed Forces community. Money raised from the Scottish Poppy Appeal and Poppyscotland's year-round fundraising enables them to deliver support to members of the Armed Forces community in Scotland by providing tailored funding and assistance. The charity also funds services in advice, employment, housing, mental health, mobility and respite. Please note that we are known as "Poppyscotland", and not "PoppyScotland" or "Poppy Scotland". For more information, please visit us at: www.poppyscotland.org.uk.