Poppyscotland is hosting an afternoon event next week to highlight the range of support available to the Armed Forces Community in the North of Scotland. The open day at its Inverness Welfare Centre in the heart of the Highland capital will focus on career guidance and job searches for veterans, as well as offering advice on the schemes, training grants/funding and other employability-related opportunities available.
Mark Bibbey, Poppyscotland's CEO, said:
"There is an estimated Armed Forces community of 100,000 in the north of Scotland and we want them to feel empowered to address any employment-related needs by making use of the supports that will be available at the event. We encourage local veterans to come down and speak to providers in a relaxed environment to learn how they can boost their job prospects."
The event, which takes place on Thursday, 21st of March from 11am to 3pm, will be attended by a host of support organisations such as Skills Development Scotland; New Start Highland; the Regular Forces Employment Association; X-Forces; Momentum Skills; and the DWP/JCP Armed Forces Champion.
Mr Bibbey, who is a veteran himself and the Chair of the Veterans Employability Strategic Working Group, added:
"Those in the ex-Service community are just as susceptible to the range of problems that the population as a whole can face during the course of their life, such as employment, debt, bereavement, housing issues and mobility difficulties caused by old age.

"Importantly, however, their ability to address these issues on their own can be greatly affected by their time in uniform, in terms of developing both a knowledge and understanding of civilian systems and norms, and also as a consequence of experiences they have had in the Armed Forces. That is why events such as our Employment Open Day are so important. At Poppyscotland, we offer a range of employment services to help veterans into work. From training grants to employment support, our initiatives are designed to help you whatever stage you are at."
One such veteran who has been helped at Poppyscotland Inverness is Scott Wilkie, who spent 20 years in the RAF as a Supplier. Scott, who lives in Forres, was refused his full pension and struggled to adjust to civilian life and secure employment. He sought help at Citizens Advice Scotland and was referred to Poppyscotland and SSAFA. Poppyscotland enrolled Scott on to the LifeWorks course and provided him with the funding he needed. Completing the course gave him a massive confidence boost and meant that he had a much better chance of getting a job that suite his skills and mind-set.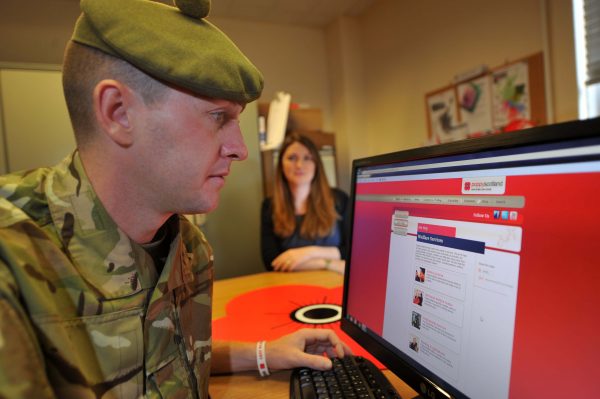 Commenting on the help he received, Scott said:
"You don't realise that people, like those at Poppyscotland, actually care and can change your life. It's only a call away and it's definitely worth making that call. It has helped me enormously and I'd like to thank Poppyscotland from the bottom of my heart for all that they've done for me."
To find out more about next week's Open Day, please contact Poppyscotland Inverness on 01463 710300, or at inverness@poppyscotland.org.uk.
Notes to Editors
• For further information and all media enquiries, please contact David A. Findlay, PR Manager at Poppyscotland, on 079797 35611, or email at d.findlay@poppyscotland.org.uk.
• For more information about the Poppyscotland Inverness Welfare Centre please visit www.poppyscotland.org.uk/get-help/advice/inverness-welfare-centre/.
• Poppyscotland provides life-changing support to the Armed Forces community. Money raised from the Scottish Poppy Appeal and Poppyscotland's year-round fundraising enables them to deliver support to members of the Armed Forces community in Scotland by providing tailored funding and assistance. The charity also funds services in advice, employment, housing, mental health, mobility and respite. Please note that we are known as "Poppyscotland", and not "PoppyScotland" or "Poppy Scotland". For more information, please visit us at: www.poppyscotland.org.uk.
• DWP/JCP Armed Forces Champion/Single Point of Contact: The Armed Forces Champion focuses only on the Jobcentre Plus support available to service leavers, serving personnel currently within their resettlement period, spouses and civil partners of currently serving and ex-Service personnel.
• Skills Development Scotland (SDS): It is a national body supporting people and businesses in Scotland to develop and apply their skills. SDS is a key member of the Scottish Government's Veterans Employability Strategic Group, which focuses on improving employment opportunities and support for veterans in Scotland.
• New Start Highland: Offers a Veterans Programme that gives veterans the chance to gain work experience, practical skills and qualification in a real workplace. Training opportunities exist in painting, administration, bike repair, horticulture, first aid, warehousing, furniture restoration, retail, electrical, forklift, and health & safety. As well as technical skills, you will explore who you are and what you want to do so our life skills coach works with you to help develop the skills you need to get back into work.
• Regular Forces Employment Association (RFEA): RFEA is the leading provider of job opportunities and employment advice for ex-Forces men and women. It has thousands of job opportunities with employers who value military experience. They advise veterans on careers suited to them. They work with veterans so that they have a good CV and support veterans through the application and interview process.
• X-Forces: X-Forces is a Social Enterprise (CIC) that nurtures entrepreneurial ambition and enterprise skills specifically for the military community. This wide ranging community includes veterans, Service leavers, reserves, spouses and Forces families. The support X-Forces offer is through training, finance, coaching, knowledge exchange, ongoing mentoring and connections to 'Big Business' that is largely bespoke to the individual or business.
• Momentum Skills: It is a leading provider of vocational rehabilitation and training services across the UK empowering people with disabilities and those who are excluded to gain the skills they need to live independently and to gain access to employment.