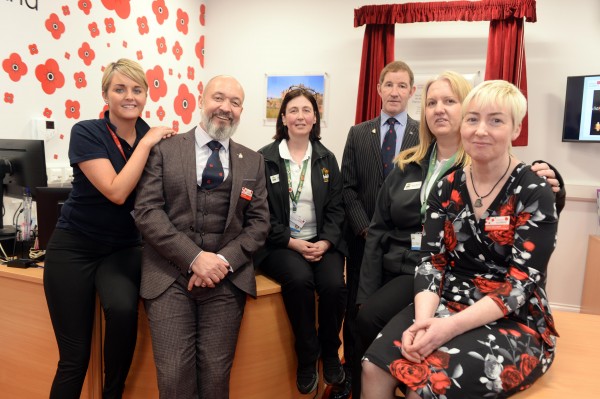 Poppyscotland is to host an open day at its Ayrshire Welfare Centre, with the aim of reducing the stigma surrounding mental health, and to promote the mental health support services which are available to the Armed Forces Community in the area.
The event, which is taking place on Thursday, 17th May 2018 from 11am-3pm, will bring people together in an informal setting to meet with specialist providers, and to help them understand what support is available and how to access it. All serving, or former serving personnel in the Ayrshire area, including Reservists and family members, are more than welcome to come along.
Those attending will learn to understand why access to advice and information and support can be a critical component in supporting the mental wellbeing of those within the Armed Forces community. In addition, the event will host specialist providers, such as Veterans First Point (V1P), Combat Stress, NHS 24 and SAMH (the Scottish Association for Mental Health), in a relaxed informal setting who will endeavour to answer any questions that you may have.
Poppyscotland CEO Mark Bibbey said: "The rigors of conflict and the wider demands on our Armed Forces, together with the challenging transition from the military to civilian life, can have a significant impact on the long term mental health of veterans and their families.
"Mental health problems in our Armed Forces community take many different forms with post-traumatic stress disorder, depression, anxiety and social isolation being the most high profile. Such issues can be incredibly debilitating for the sufferer, and often close family and friends bear the brunt of the condition, too. With the right treatment, those who experience mental health issues can learn to successfully live with and manage them, and that is why Poppyscotland places such value in providing help through events such as our forthcoming open day."
ENDS…
Notes to editors
For further information please contact David A. Findlay, PR Manager at Poppyscotland, on 0131 550 1580 or 079797 35611, or email at findlay@poppyscotland.org.uk.
Caption information: You will get a warm welcome from Poppyscotland's friendly and professional team at the Ayrshire Welfare Centre. Picture credit: M Owens/Poppyscotland
The open day coincides with the Mental Health Foundation's national and widely respected Mental Health Awareness Week (from 14-20 May) "Surviving or Thriving", with more information available here: mentalhealth.org.uk/campaigns/mental-health-awareness-week.
Poppyscotland provides life-changing support to the Armed Forces community. Money raised from the Scottish Poppy Appeal and Poppyscotland's year-round fundraising enables them to deliver support to members of the Armed Forces community in Scotland by providing tailored funding and assistance. The charity also funds services in advice, employment, housing, mental health, mobility and respite. Please note that we are known as "Poppyscotland", and not "PoppyScotland" or "Poppy Scotland". For more information, please visit us at: poppyscotland.org.uk.