They came, they danced… and they raised an incredible £25,000 for Poppyscotland. The leading Armed Forces charity hosted its second annual 'Come Dancing with Poppyscotland' event in association with Toe 2 Toe Dance, at the Macdonald Drumossie Hotel, and those taking part, along with a host of other supporters and sponsors, helped smash last year's total by £4,000.
A sell-out crowd of more than 300 gathered at the hotel to watch the duo of Audrey Anderson and Toe 2 Toe dancer Paul Robertson lift the coveted 'Glitter Ball' top prize. The winner of the 'Top Fundraiser trophy' was Liz Sutherland, who raised more than £2,500. The format of the event is similar to the popular BBC television series in that dancing pairs are made up of one beginner/amateur together with an experienced dancer from Toe 2 Toe Dance.
Glitter Ball winner Audrey, who admits herself to being something of a dancing novice, said:
"To be given the opportunity to learn ballroom and Latin dance was a dream come true when I got picked. The six months of training didn't come without a few bumps and bruises, but it was the most exhilarating experience I've ever had!"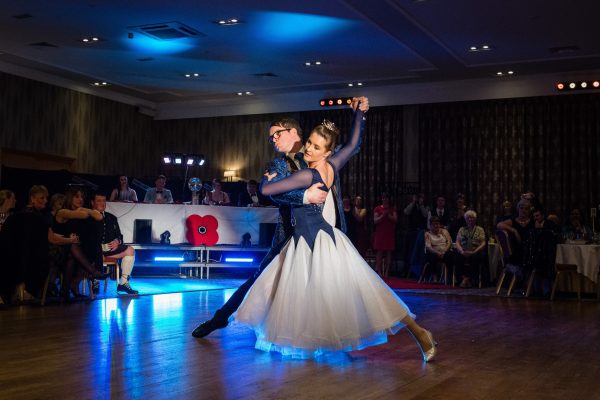 Audrey, who was sponsored by ADM Electrical (Scotland) Ltd, added:
"Fundraising for Poppyscotland has been an eye-opener into the wonderful things they do for veterans and their families and I wish to continue to help doing charity work.

"Winning the Glitter Ball trophy for dancing was such a surreal feeling, and I kept saying to people: I don't understand – how could I have won a trophy for dancing when the talent of all the dancers was so outstanding?' I will never forget the people that helped make this happen. Jen and Tris, my dance teachers, will always hold a place in heart alongside my dance partner Paul."
And Paul, sponsored by Gleaner Oils, added:
"I'm buzzing! It has been a fantastic night for such a worthy cause. There was such great support and performances from all the couples. I am delighted for Audrey, who, as a total beginner, has given her all for two difficult routines, and I'm so glad it all came together on the night."
Liz Sutherland, who was sponsored by Morris Leslie, said:
"It was such a fabulous experience and I was over the Moon to win the fundraising trophy for such a great charity."
Poppyscotland North of Scotland Regional Fundraiser Frances Beveridge, who organised the event, said:
"We thought the first Come Dancing with Poppyscotland event was special, but this year's really captured the imagination. Tickets sold out before Christmas and we had a crowd of more than 330 people cheering on our dancers.

"I would like to thank all our volunteers who helped at the event and our amazing judges. I'd also like to thank the businesses because, without their support, this event would not have been possible. For this I am truly grateful and it is wonderful that we were able to raise £25,278.21, which will be used to boost Poppyscotland's life-changing support of the Armed Forces community in Scotland."
Jennifer Hill, the Principle Dance Instructor at Toe 2 Toe Dance, said:
"The event was yet again a resounding success with an unbelievable amount of funds raised. We are so immensely proud and grateful to all the dancers for their hard work and commitment."
The good news for dance fans throughout the north-east of Scotland is that Come Dancing with Poppyscotland will return in 2020, and will again be held at the Macdonald Drumossie Hotel on Saturday, 29 February. If you are interested in applying to take part, or are a business who would like to sponsor part of the event, please contact Frances Beveridge, Poppyscotland North of Scotland Regional Fundraiser, on 01463 701 764, or at f.beveridge@poppyscotland.org.uk.
Lindsey Randall, General Manager of the Macdonald Drumossie Hotel, said: "It was an absolute pleasure to be involved with Come Dancing for Poppyscotland once again. Everyone involved should be so proud at the money raised and we're already looking forward to 2020!"
Notes to Editors
For further information and all media enquiries, please contact David A. Findlay, PR Manager at Poppyscotland, on 079797 35611, or email at d.findlay@poppyscotland.org.uk.
Total raised: £25,278.21.
Supporting businesses:
Toe 2 Toe Dance (Choreography, Outfits, lighting & Sound and Programme Information)
The Macdonald Drumossie Hotel (Venue)
North Highland Radio (Media)
CoCo Salon & SPA (Hair & Make Up)
Highland Graphics (Programmes and Tickets)
Highland Dreams Photography (Photographer)
Corporate Sponsors (who supported the dancers and opening Toe 2 Toe group dance):
Inverness Airport
D Gunn Funeral Directors
Woodblocx
Calder Electricals
Loch Ness by Jacobite
Curves, Inverness
Macleod & MacCallum
Trinity Insurance (Second year supporting the event)
Morris Lesley
Common Good Fund, Highland Council
ADM Electrical (Scotland) Ltd
Gleaner Oils (Second year supporting the event)
C D MacNeill Tarmac & Civil Contractors
D Y Fraser Ltd
GMS Accountancy Ltd
Mitchell Motorcycles (Second year supporting the event)
Morrison Construction (Second year supporting the event)
Poppyscotland provides life-changing support to the Armed Forces community. Money raised from the Scottish Poppy Appeal and Poppyscotland's year-round fundraising enables them to deliver support to members of the Armed Forces community in Scotland by providing tailored funding and assistance. The charity also funds services in advice, employment, housing, mental health, mobility and respite. Please note that we are known as "Poppyscotland", and not "PoppyScotland" or "Poppy Scotland". For more information, please visit us at: www.poppyscotland.org.uk.
The Macdonald Drumossie Hotel is one of the leading conference and function venues in the Highlands and combines heritage, luxury and convenience all in one outstanding venue. It is situated in nine acres of stunning parkland – only ten minutes from the city centre and a few minutes from the A9 – and lies within easy close reach of several of the finest links golf courses in the world. In addition, the hotel is perfectly positioned for the rich, local heritage of Culloden, Loch Ness and the Cairngorms, making it perfect for a relaxing break or a romantic getaway. For further information, please contact Brett Jackson or Lesley Eaton, Granite PR, at brettjackson@granitepr.co.uk, or lesleyeaton@granitepr.co.uk, or call 07808 727 167 or 07595 200 662.