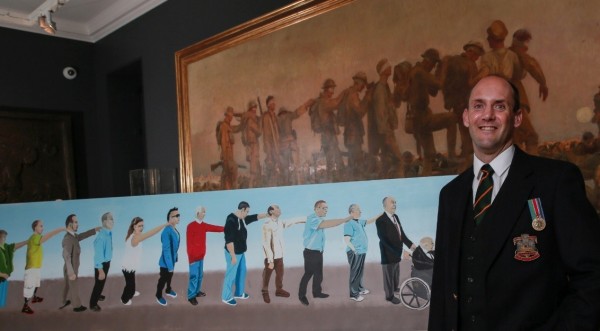 A blind artist from Lancashire who who says he owes his life to Blind Veterans UK has attended the opening of a special art exhibition that features his work which will be auctioned off to raise money for the charity.
Matt Rhodes, 42 and from Preston, is exhibiting his work along with other blind veterans at the 'Art – Life Beyond Sight Loss' exhibition which opened its doors to the public on Saturday (14/01).
The exhibition explores the role of art and craft in assisting blind and vision-impaired veterans overcome the barriers and challenges of sight loss. Held at St George's Hall in Liverpool, it includes paintings, wood work and ceramics produced by a number of blind veterans who have been trained in new techniques after visiting the charity's training and rehabilitation centres. 
Matt has several paintings featured in the exhibition including a number of portraits of celebrities including Dame Barbara Windsor and Sir Andy Murray that have been signed by the subjects.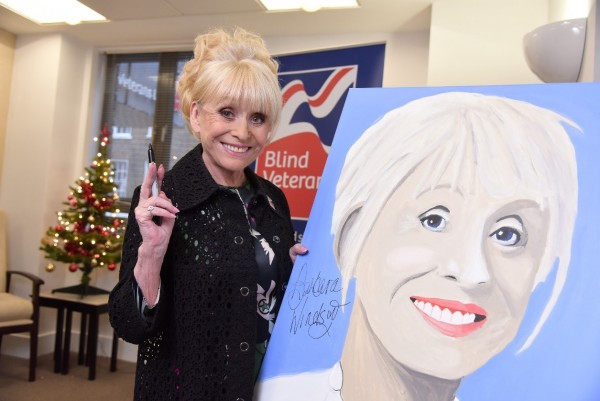 Matt joined the army in 1993 serving with the 1st Battalion, Devonshire and Dorset regiment in Canada, Germany and Bosnia and, in 1995, tragically lost his sight after a motorcycle accident left him with a traumatic brain injury as well as paralysis down the right side of his body.
As well as his celebrity portraits, the exhibition will also include Matt's modern version of the iconic John Singer Sargent painting "Gassed". The original, now hanging in IWM London, depicts a line of wounded soldiers walking towards a dressing station following a mustard gas attack in the First World War.
Matt's version shows 13 veterans currently supported by the charity set in a composition that mirrors the original, with the veterans walking with their arm on the shoulder of the person in front. The veterans featured range in age from 25 to 100 and have fought in conflicts including the Second World War, Falklands, Iraq and Afghanistan. It also includes the artist himself.
Matt spent almost 100 hours working on the artwork at the Blind Veterans UK Llandudno centre, using a technique that he first developed with one of the charity's art and craft instructors 10 years ago.
Since receiving this training he has gone on to paint hundreds of pictures and says that the art has given him "a new lease of life".
His paralysis has meant that right-handed Matt has had to learn to paint with his weaker left hand as well as his vision-impairment and, due to the nature of his sight loss, is never able to see his creations in their entirety even when they're completed.
Matt says: "I have half tunnel vision so when I'm working I can only see small sections of the painting like an eyebrow or an ear. I have to work my way around doing each bit on its own. It does mean that I can never see the whole finished work."
Matt has been supported by Blind Veterans UK since 1996 and, as well as having art training, has also received equipment and training to allow him to continue to live independently at home.
He says: "I owe Blind Veterans UK so much. That is why I'm so pleased to be able to share my paintings and raise money by auctioning them off.
"I would never have believed when I lost my sight that I would be able to paint but Blind Veterans UK show you what you can do rather than what you can't. Unfortunately, my injuries have become worse over the last few months and I have had to stop painting conventionally. The attitude remains the same though and I'm already working with the instructors on finding new techniques using new technologies."
Since the charity's founding in 1915, Blind Veterans UK has considered the study of art and craft skills to be an important element of rehabilitation for the blind veterans it supports. This exhibition, 'Art – Life Beyond Sight Loss' will exploring the impact of arts and crafts on the lives of blind veterans and illustrate how the military charity has enabled many of its beneficiaries to build confidence, self-belief and independence.
The exhibition is open to the public from 14 to 29 January – excluding Mondays and Tuesdays – and will be open from 10:00 – 16:00. Admission is priced at £3 per adult, £1.50 per child with reduced rates available for groups and schools.
Many of the items displayed in the exhibition will be up for auction, including Matt's collection of signed portraits of celebrities such as Steven Gerrard, Joanna Lumley and Lorraine Kelly and many more. Visit blindveterans.org.uk/lifebeyondsightloss for more information and to bid on the auction.
Blind Veterans UK was founded in 1915 and the charity's initial purpose was to help and support soldiers blinded in World War I. But the organisation has gone on to support more than 35,000 blind veterans and their families, spanning World War II to recent conflicts including Iraq and Afghanistan.
For more than a century, the charity has been providing vital free training, rehabilitation, equipment and emotional support to blind and vision-impaired veterans no matter when they served or how they lost their sight.
ENDS
High Resolution images are available on request
For all media enquiries please contact: Mark Wheeler, PR Officer, Blind Veterans UK, 12 – 14 Harcourt Street, London, W1H 4HD, E: mark.wheeler@blindveterans.org.uk, T: 020 7616 7980
Notes to Editors
Blind Veterans UK
Blind Veterans UK is a national charity that believes that no-one who has served our country should have to battle blindness alone. Founded in 1915, the charity provides blind and vision impaired ex-Service men and women with lifelong support including welfare support, rehabilitation, training, residential and respite care.
Find out more at: blindveterans.org.uk, follow us on Facebook at: facebook.com/blindveteransuk and on Twitter at: twitter.com/blindveterans.