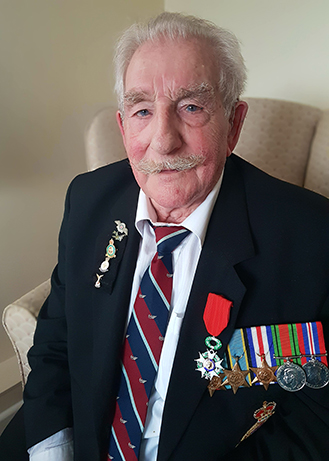 When former rear-gunner Peter Potter was awarded the Legion d'Honneur for his involvement in the liberation of France during WW2, there was only one place he wanted to have his medal presented to him, amongst friends and peers at the RAF Benevolent Fund's Princess Marina House.
Peter, now aged 91, joined the RAF at just 17, lying about his birthday and saying he was two years older. He began his RAF life as Warrant Officer in 1943, becoming part of Bomber Command's 626 Squadron. After a year-long course, he flew his first mission as a rear-gunner in May 1944 and went on to complete a further 33 missions, mainly in Lancaster bombers, during which he was injured only once.
Peter explains: "I had my jaw smashed while pulling out of a dive when we were evading a Junker Ju 88. My head went down and hit the controls. I still have bone splinters coming out of my jaw now but really we were all pretty lucky to survive."
Another mission of note for Peter was when he flew at just 500 feet, dropping mines over the heavily fortified Kiel Canal.
"We ended up with 154 holes in the plane and it's not something I'd ever wish to do again!"
After completing the last of his 33 missions in December 1944, Peter spent the rest of the war closing the country's airfields, particularly those used by Americans.
He was demobbed in 1947 and returned to Colchester where he became a nurse, working in London and Colchester before becoming a fireman and eventually retiring.
In November 2016, seventy-two years after his last mission, Peter received a letter informing him that France had appointed him a Chevalier of the Legion d'Honneur – the country's highest accolade – for helping to liberate the nation during the Second World War.
"I was amazed to receive it and said to my wife Janet that I would dearly love to have the medal presentation at Princess Marina House, where I could be amongst our friends and the fantastic staff," Peter explains.
"We both love it at PMH as it's such a wonderful place to stay in a beautiful part of the country. Nobody looks after you better and I thank the RAF Benevolent Fund for letting me have the ceremony there."
Peter was presented with his medal by French Honorary Consul Captain François Jean.
"I thank Captain Jean and the French nation for saying to me that the bombing raids we had to do all those years ago were not wrong," Peter said.
"After the guilt I've always carried for potentially harming innocent women and children during the raids, the medal has given me great peace of mind that I hadn't been able to feel for 70 years."
Peter is now working on his memoirs which will be published later this year.