Play spanning decades described as "beautifully portrayed" and "very moving"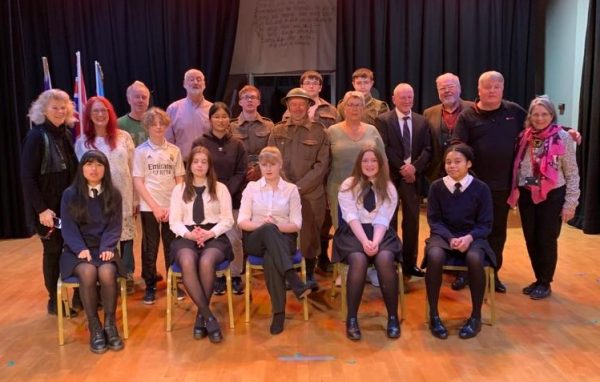 Archie's Issues is the story of a man killed in World War Two, a man whose legacy of love, camaraderie, and forgiveness is not fully realised for 50 years.
Sponsored by SSAFA, the Armed Forces charity this production was an updated version of the play, itself adapted from a story by the late David Gray, Argyll & Sutherland Highlanders. It was scripted by Sean McGinley, directed by Jonny North, and produced by Kevin Boland. Additional scenes were researched and written by local author Ian McNeish.
It was presented in late March by kind permission of Headmaster Donald Shaw in collaboration with pupils from Queen Victoria School, Dunblane, who joined Forth Valley Creative Veterans to present Archie's Issues. This followed a performance at Easter Culmore, Kippen in June 2022, and many of that original cast revisited their roles in this updated version of David's story.
Attended by local dignitaries and members of the Commissioners for Queen Victoria School, the production of Archie's Issue's was a tremendous success, and played to full houses with rapturous audiences that thoroughly enjoyed the experience of being taken through an extremely emotional, funny, and tearful journey.
Audience reaction was strong, perhaps unsurprisingly as the emotive subject matter rang home for many, regardless of age.
One audience member said:
"A huge well done and congratulations to you all for the play, which was both very moving and beautifully portrayed."
Mary Kenyon, Branch Chairman Forth Valley said:
"Special thanks go to Queen Victoria School staff and most importantly to the wonderful pupils who acted and worked tirelessly behind the scenes to put this production together; they really stole the show."
For more information, visit ssafa.org.uk/forth-valley.