The RAF Benevolent Fund unveils its first ever garden at the RHS Chelsea Flower Show.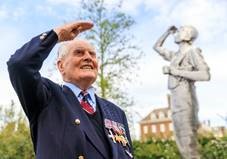 After months of preparation, the RAF Benevolent Fund unveiled its first ever garden at the RHS Chelsea Flower Show this week (May 23-28).
The garden, which was awarded a Silver medal, features a sculpture of a young pilot looking up at the sky. Standing at four metres tall and constructed from 1,200 layers of laser cut stainless steel, the state-of-the-art sculpture will be imposing and a moving tribute to all those who have served and continue to serve in the RAF.
The garden has been designed to allow visitors to sit and reflect on the service and sacrifice of all the RAF and civilian personnel and we hope will inspire viewers to look into their own history and speak to family and friends about their connections to the RAF.
Press day on May 23 saw performances from the Wind Quintet of the Band of the RAF Regiment, with music transporting people back to the Second World War. There were also emotional readings from actor Colin McFarlane, actress Sue Holderness, and TV presenter Charlene White, who all have personal links to the RAF. World War 2 Veteran Colin Bell, 102, who served on operations as a Mosquito Bomber Pilot and carried out 50 bombing raids over Germany read two poignant poems, and RAF Benevolent Fund ambassador Rob Bugden talked about how the RAF Benevolent Fund has supported him in his recovery following a life-changing parachute accident.
There were also dozens of celebrity appearances at the garden, including Dame Judi Dench, Dame Joan Collins, Dame Joanna Lumley, Philip Schofield, Zoe and Johnny Ball, Dame Esther Rantzen, Vicky McClure, Amanda Holden among many others.
Jason Shauness, Director Fundraising and Communications at the RAF Benevolent Fund said:
"This is such an exciting opportunity for the RAF Benevolent Fund and we are incredibly grateful to Project Giving Back and the RHS for making it happen. It has been a tough time for everyone over the last couple of years, but we are excited to be able to share our journey with our supporters and the general public. We are delighted to be working with award-winning garden designer John Everiss whose father served in the RAF."
John's father Stan, a navigator on Stirling bombers, survived after being shot down over occupied France in 1943. After being hidden by local resistance fighters he was eventually guided over the Pyrenees and eventually reunited with his family after four months.
Award winning Garden Designer John Everiss said:
"I am absolutely thrilled to have the opportunity to work with the RAF Benevolent Fund on our Chelsea Garden 2022. My father was an RAF navigator during WW2, so I have grown up hearing the amazing stories of veterans and their families.

"As a member of the RAF Family, the opportunity to be able to thank them and highlight the fantastic work the charity does is a privilege for me and my team, and we're ecstatic to share the garden with all visitors attending."
Funding for the garden is being provided by Project Giving Back, a new support scheme enabling charities to create a garden at the world-renowned show.
Following Chelsea, the garden will be relocated to a permanent site at London Biggin Hill Airport.
For more information about the garden or how the Fund supports the RAF Family, please visit rafbf.org/chelsea.