2023 marks the 75th anniversary of the Taxi Charity for Military Veterans. One man who has been associated with the charity for almost all of those years is  Len Sheppard, 93 from Albany Park.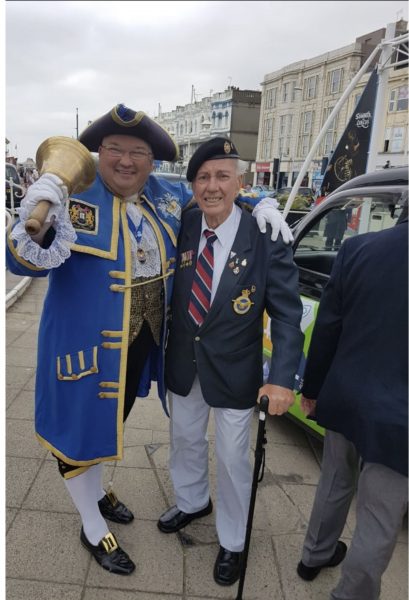 The Taxi Charity was formed seventy five years ago and  just a few years later London cab driver Len Sheppard began volunteering to support their work.
Len takes up the story,
"In 1955 very shortly after I got my badge,  a fellow cab driver told me about  a new  charity that was supporting veterans and as I had served with the RAF, I decided that I wanted to volunteer my help. It was called the London Taxi Benevolent Association For War Disabled then and I used to go to the cab ranks and collect money with Harry Joel MBE, who would later become the charity's life president. The money we collected would pay for  the charity's annual trip to Worthing and at that time there were probably about sixty volunteer taxi drivers who would take veterans to the coast each summer for a day out. Over the years I am immensely proud that I must have collected thousands for them."
After Len retired from driving a cab, he then saw the other side of the charity when he was invited, as a veteran who had  served with the  RAF after WWII checking and servicing radar equipment, to join the charity at events in the UK and Europe.
Len continued,
"Having supported the charity during my years as a cab driver  it was wonderful when the charity started to invite me to join them at their events. Many people think that the charity only supports WWII veterans but they support veterans from all conflicts which is why I received the invitation. I have been with them on commemorative trips to Arnhem, Ypres and Normandy and in December last year I attended their hugely enjoyable Christmas Lunch at Millwall football club. At 94 these trips might be considered too much for some, but a charity volunteer cab driver picks me up at my home and returns me safely after the event and if we are away for a few days, I never have to worry about anything as nothing is ever too much trouble for the drivers."
Brian Heffernan, London cab driver and Chairman of the Taxi Charity said,
"This year is so special for everyone associated with the Taxi Charity as we celebrate our  75th  anniversary. Over the years we have been supported by hundreds of volunteer cabbies and we are immensely thankful to Len and all the other London taxi drivers, who since 1948,  have volunteered their time and their vehicles to support veterans."
To find out more about the support the Taxi Charity offers to veterans or to donate to the charity's  '75 for 75' anniversary fundraising campaign visit www.taxicharity.org