Andrew Armstrong, from Yeovil, has set himself the challenge of running the London Marathon to raise money for SSAFA, the Armed Forces charity.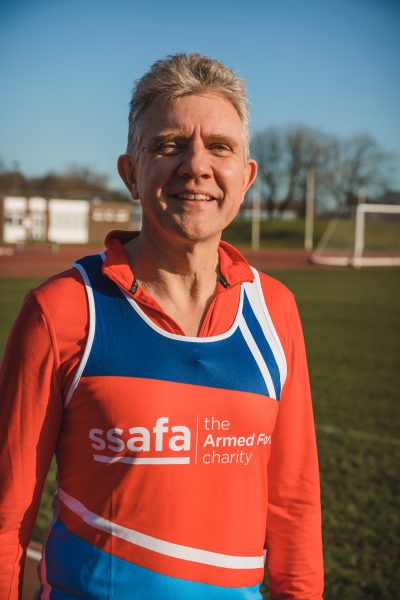 Andy, the Airworthiness Manager at Boeing Defence UK, will be taking on the London Marathon this April with the aim to raise £2,000 for SSAFA, the Armed Forces charity.
After spending 19 years as an Aerosystems Engineer in the RAF, he retired ten years ago and went into the defence industry, before joining Boeing around five years ago as a lead engineer.
In addition to working as an Aerosystems Engineer, Andy's Father also served in the RAF, with his Mother giving birth to him in an RAF hospital in the 1960s.
Andy said:
"I'm looking forward to running the London Marathon 2020 for SSAFA. After being in the military myself, I understand the importance of charities like SSAFA and the support they offer to the Armed Forces community."
James Grant, Head of Corporate Fundraising and Events, said:
"We're incredibly grateful to Andy for signing up to take part in the London Marathon 2020 for SSAFA, the Armed Forces charity. As an employee of our newest corporate partner- Boeing– we are thrilled that Andy will be taking on the challenge in aid of SSAFA. The money raised will go towards supporting service personnel, veterans and their families."
Ellen Harrison, President of BRAVO, Boeing Reserve and Veterans Organisation added:
"Andy is one of many Boeing employees who are veterans or active reservists and work alongside their military counterparts within the broader defence community. As Boeing UK's chosen charity of the year and through fundraisers such as Andy, we are proud to support the life changing work that SSAFA does to restore independence and dignity to thousands of service men and women, and their families, each year. We wish Andy, and all the SSAFA London Marathon runners, the very best of luck."
If you would like to support Andy, please go to: https://ssafa-boeing.charitycheckout.co.uk/cf/andy-armstrong-is-running-the-london-marathon
ENDS
Notes to editors
SSAFA, the Armed Forces charity, has been providing lifelong support to our Forces and their families since 1885. In 2018, our teams of volunteers and employees helped more than 82,000 people in need, from Second World War veterans to young men and women who have served in more recent conflicts, and their families. SSAFA understands that behind every uniform is a person. And we are here for that person – any time they need us, in any way they need us, for as long as they need us.
For more information visit www.ssafa.org.uk and follow us on Twitter: @SSAFA.