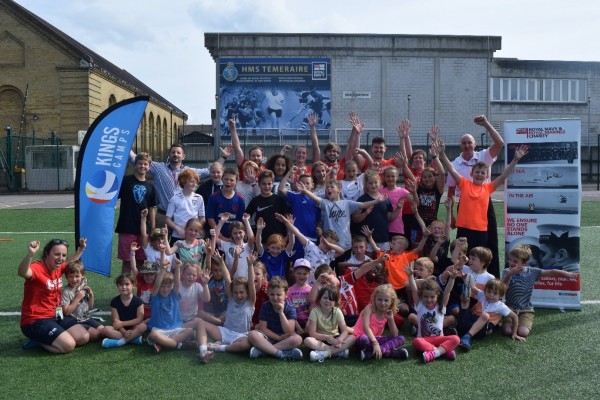 The Kings Camp at both HMS Temeraire and HMS Collingwood ended this year with record high numbers of naval children in attendance.
Children from ages 5 to 14 years-old turned up in their droves to attend this summer's sporting activity camps. The camps, which play host to children from naval background, offer a plethora of fun sports activities from Badminton to Swimming, the camp offers it all.
Having begun as a single week at HMS Temeraire with between 30 and 40 children, Kings Camp Portsmouth and HMS Collingwood in Fareham now host over 210 children between them.
Kings Camp organiser, Tiny Nash, has been helping host both camps for the past six years. He said: "I put the camp together for the Portsmouth area, and it's [now] my sixth year doing it now. I brought it down from Scotland when I was drafted as the Physical Development Officer. I saw the camp up there and thought it was a great idea, so I spoke to Kings Foundation and brought it to Portsmouth."
He continued: "The number attending is getting bigger, which is great. Hopefully that will continue in the future.This is by far the biggest camp that we've had in Portsmouth. The word is getting out there, and again it wouldn't have been possible without the support of the Royal Navy and Royal Marines Charity."
The Royal Navy and Royal Marines Charity have made the continuation of Kings Camp possible by providing financial support for the last 6 years. In that time, they've seen the camp flourish and support for Service dependents increased. The RNRMC fund Kings Camps in Portsmouth, Fareham, Raleigh, Calderose and Rosyth.
The enthusiastic Kings Camp staff work hard to ensure that the children enjoy a multitude of sports based activities across either one or two weeks in the summer, while they also provide vital help to Service dependant parents whose loved ones are away on active service.
The importance of the Camps has been seen first-hand by Tiny, who explained: "I might have a Dad or a Mum who is in the Gulf or the Falklands, who sends me an email asking whether the camp is going to run. That shows the impact. If they're working in Portsmouth, and the other parent is away, to have the children come to Kings Camp for a week, it is just brilliant for them."
Mum of two, Joanne May, whose son Will has just finished second year at Kings Camp has benefitted from the existence of the camp. She said: "Last year, my husband was away on a 9 month deployment and Will found it really difficult but the camp was just brilliant for him. He loves the sports but the staff are absolutely brilliant. It's just amazing.He looks forward to coming, and he wants to get here as early as possible at 8.15am, he's really excited- it's really good."
Her son, Will, was as equally enthused about Kings Camp, he said: "You get to do lots of stuff and learn new sports. I want to come again next year!"
Through RNRMC funding, Kings Camp will continue to flourish again next year.
ENDS