The Royal British Legion are delighted to introduce our new "Recovery through Comedy Project".  A five-day residential and fully funded course at the RBL's Battle Back Centre at Lilleshall, Shropshire. The course takes place Monday 31st October – Friday 3rd November and will culminate in a live stand-up comedy show at a RBL Club in Birmingham.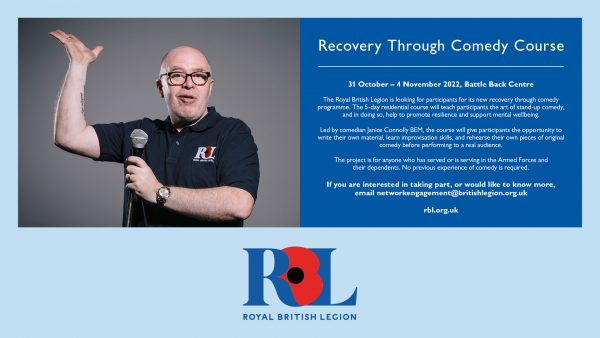 The course will be led by Janice Connelly BEM, who has extensive experience of undertaking comedy workshops for a variety of groups. We are now seeking people from the Armed Forces Community to take part in this innovative programme. There are no particular criteria for participants, but we think this would really suit people who would like to:
Improve confidence, wellbeing, communication, and presentation skills
Build new relationships and provide share experiences
Provide an opportunity to confront and overcome fears
Learn how to manage anxiety and how to cope in stressful situations
Interest in the programme can be registered by completing this short form Recovery through Comedy – Registration of Interest Form 
A full information booklet giving details of the course and what is involved will then be sent to registered individuals.  Contact will be made again in early September to confirm continued interest and confirm next steps.  Places will be limited so we recommend registering interest early.
Any questions can be sent to networkengagement@britishlegion.org.uk