A reunion with a former RAF colleague has inspired a recent Lord Mayor of Manchester to become an official ambassador for veterans' care home Broughton House.
Carl Austin-Behan and Broughton House chief executive Chris Lindsay were stationed together at RAF Chivenor in Devon during the early 1990s. Carl was a fireman and Chris was an assistant air traffic controller.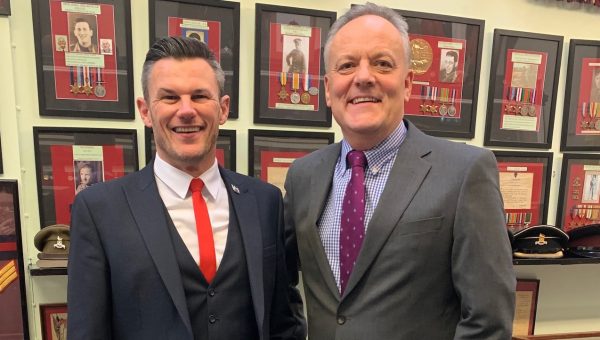 The pair met for the first time in nearly 30 years at the funeral of 100-year-old RAF veteran and Broughton House resident Oswald Dixon last October.
Carl said:
"I read about Oswald's sad passing and decided to attend his funeral in tribute. When I met Chris there and we started talking, I realised we had been RAF colleagues.

"I'd visited Broughton House on several occasions when I was the Lord Mayor of Manchester, before Chris took up his role.

"It's a charity that is close to my heart and I look forward to supporting the tremendous work it does and to raising awareness of its fundraising campaigns and projects."
Carl's links with the Salford care home go back to when he was a youngster attending Crumpsall Lane Primary School in north Manchester.
"At Harvest Festival time we used to take food for the veterans and at Christmas we put on concerts for them," he said.

"The care provided at Broughton House for veterans is amazing and I'm delighted to be on board as an ambassador and to give any guidance I can to help it continue to flourish."
Carl joined the RAF at the age of 19 in April 1991 and served until November 1997, when he was discharged for being gay.
During his service was posted to Belize and the Ascension Islands, and received several awards, including one from the Royal Humane Society for the pilot from the burning wreckage of a Hawk aircraft.
Nowadays he runs a cleaning company with his business partner and is the LGBTQ+ adviser to the Mayor of Greater Manchester and the Greater Manchester Combined Authority.
He is also a Deputy Lieutenant of Greater Manchester and the president of young people's theatre Contact.
Carl received an OBE in the New Year Honours for services to charity, LGBTQ+ equality and supporting communities across Greater Manchester.
He is the latest high-profile ambassador for Broughton House, following the recent appointments of Coronation Street star Antony Cotton, Team GB Taekwondo para athlete and world champion Amy Truesdale and Sale Sharks hooker Curtis Langdon.
Ambassadors promote the Salford care home to increase awareness and attract new supporters, and attend or host events organised by the charity.
Broughton House is currently being transformed into the UK's first Veteran Care Village in a £15m redevelopment.
Once completed, the two-acre site will feature a 64-bedroom care home, up to 30 independent living apartments, a military support hub, a memorial park and landscaped gardens with a bowling green and bandstand.
Chris Lindsay said:
"I am extremely pleased and proud that Carl has kindly agreed to become an ambassador for Broughton House.

"We recently had time to remember our friendship as RAF colleagues while serving at RAF Chivenor in the early 1990s.

"As we transition to becoming the UK's first Veteran Care Village, having such a motivated individual as Carl as an ambassador will undoubtedly assist us in raising awareness of Broughton House to the wider community."
ENDS
Notes to editors
The attached photographs show Carl Austin-Behan and Chris Lindsay at Broughton House.
For more information on this story, contact Rhys Edwards, fundraising and marketing manager at Broughton House, via rhys.edwards@broughtonhouse.com or 0161 740 2737 or 07368 266823.
For more information on Broughton House, visit www.broughtonhouse.com