RFEA – The Forces Employment Charity has appointed a new Chief Executive. Alistair Halliday, currently Director of Training and Government Relations at SSVC, The Services Sound and Vision Corporation, will succeed Stephen Gledhill, the charity's long-serving Chief Executive, who announced his retirement earlier this year.
A veteran of the Royal Navy, Alistair has worked in corporate business, government and the voluntary sectors, with extensive experience in media communications, strategy, change and business development. He has had high-level Corporate Communications experience in government, advised many charities, ran Raytheon's training business, and commanded three ships. He recently set up and ran the acclaimed Forces Media Academy.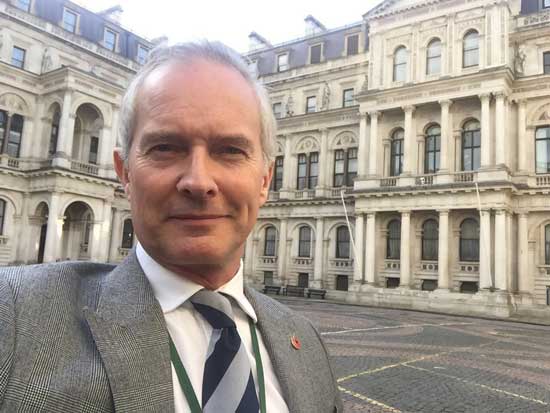 Alistair, who will join RFEA in January 2019, said:
"I have seen at close hand the amazing work of the RFEA – The Forces Employment Charity in supporting Forces personnel into appropriate and sustainable employment, and I am honoured and thrilled to have been chosen as Chief Executive at such an important time. The RFEA is a fantastic organisation and I really look forward to being able to help make a positive difference to the lives of servicemen and women and build on the legacy of the past 133 years. I very much look forward to working with all the team at RFEA and with our partners in the military charity sector."
Chairman of Trustees at RFEA – The Forces Employment Charity, Liz Cassidy, said:
"We're delighted to have appointed Alistair Halliday as our new Chief Executive. He brings much valued experience and skills and RFEA is proud to have him on board. I know he will help us make a huge difference to the lives of those we support who have served in the UK Armed Forces. We are also very grateful to Stephen Gledhill who has served as our Chief Executive for the past nine years and transformed the charity into the success it is today."
Notes to editors:
For further information about RFEA, contact Sarah Stokes, Communications Manager (sarah.stokes@rfea.org.uk or 07805 725238).
RFEA – The Forces Employment Charity – exists to provide life-long, life-changing support, job opportunities, and training to service leavers and veterans, irrespective of circumstances, rank, length of service, or reason for leaving.
Founded in 1885 and operating across the UK, we have the specialist knowledge and understanding to bridge the gap between military life and civilian employment. We work in partnership with other organisations and employers who, like us, respect and value the unique qualities and abilities of all those who have served.