For a member of the Royal Navy, Army, or Royal Air Force, thoughts of home, when deployed overseas, are ever-present. Think of home, and think of family. Almost every serviceman or servicewoman is leaving someone behind when they deploy, and often the hardest people to leave behind are children.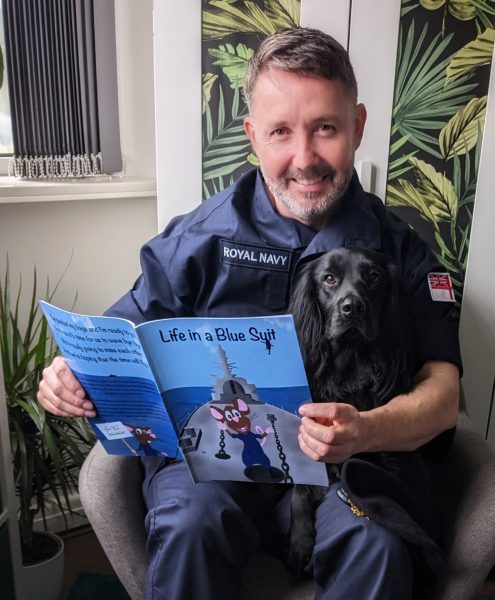 No matter how much preparation a family does, it is still a wrench for the person going away for months on end, perhaps worse for his or her family left behind.
One man who knows what this feels like is Andrew Terry.
In fact, Andrew – who served 22 years in the RN on surface and submarine craft, and is now a Reservist – understands so well the effect on children that he has written a book about it: Life in a Blue Suit. With the aim of helping children come to terms with a mum or dad away at sea on a long deployment, it is available from the web shop of SSAFA, the Armed Forces charity.
Andrew (43), born in Wolverhampton, splitting his time between the Midlands and Herefordshire, and working in Cheltenham, had some expert help with writing Life in a Blue Suit. While he could write from the perspective of the parent going for their thoughts. on deployment, he roped in his two children – son Kian (19) and daughter Isabella (7) – for their unique insight as well as helping with the illustrations.
Taking up the story, Andrew explains:
"I always used to write stories and send drawings to my children when I was deployed and was often told by them and others 'You should write a book!'.

"Kian once took a story into school, and his teacher wrote to me encouraging me to do something, so I decided to write a book. I first thought of a traditional 'Once upon a time…' type of book, a story with a typical beginning, middle, and end.

"But then I decided to do something a bit more meaningful, something that might actually help children. So that's why the book is the way it is. I also deliberately did little characters to avoid any stereotypes like race or colour, and I've written the text in a 'gender neutral' way – for example 'The sailor in this story…'.".
Andrew is making Life in a Blue Suit available to SSAFA and other charities to sell, so that the book can bring emotional benefits to children it is bought for, and financial ones for the charity.
Asked why he chose SSAFA – the oldest tri-service charity in the UK – Andrew said:
"One reason is that I remember my nan, Gladys, talking very highly of SSAFA because of her experiences during and after World War Two. But it's also because SSAFA is recognised as being the number-one supporter of UK Armed Forces personnel across the board, and has so much history and such a strong identity."
The last word, however, goes to Isabella, who says:
"I liked helping my dad to write the story and I liked that he listened to me when I said to change some of the pictures. I liked where it said that it's okay to feel sad.

"My favourite character is Smudge – he's so cute! – but I like Jumper as well, and now I want to write a book and be an artist!"
Andrew's book Life in a Blue Suit is available at ssafastore.org.uk/products/life-in-a-blue-suit.