The Royal British Legion has thanked the public for their generous support in the year that marked the end of the First World War Centenary and the charity's biggest Poppy Appeal in recent memory. The Legion has released new figures about the scale of its operation in 2018, although it won't be known for a number of months whether the charity has hit its £50million target for its 2018 Appeal.
Poppy Appeal 2018 biggest logistical operation in the Legion's history
End of First World War Centenary drives public support for Remembrance and the Poppy Appeal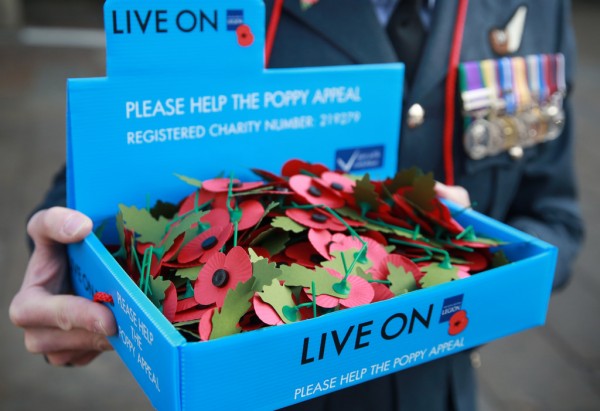 • The charity distributed 200,000 extra collection tins compared to 2017.
• The total value of contactless donations made was £210,000, up from £67,000 last year, and the average value of a donation increased from £3.53 to £4.67.
• 83,000 specialist event poppies were distributed, and 130,000 poppy wreaths.
• More income will be received from our supermarket partners such as Sainsbury's, Tesco, Morrison's who collectively processed and banked £6.3m in 2017.
• Special fundraising days where serving personnel and veterans come together to collect held in London, Birmingham, Manchester and Bristol together raised £958,000 up from £899,000 last year.
• The Legion Poppy Runs across the country doubled the number of participants. Over 7,000 runners took part in a park or virtual poppy run and they have already raised £200,000.
The Royal British Legion's Director of Fundraising, Claire Rowcliffe, said: "We thank the public for their support and generosity, and to our amazing network of volunteers who put in a huge amount of time and effort to collect money and to make the Appeal such a success. We are hopeful of meeting this year's record target of £50 million and will know for certain later in 2019. Money donated by the public is used to provide lifelong support for the Armed Forces community – serving men and women, veterans and their families."
The Poppy Appeal is the Legion's biggest fundraising campaign held every year from late October through to 11 November, Remembrance Sunday. The charity's 'London Poppy Day' is the biggest one -day street collection in Europe. This year's Appeal coincided with the centenary of the end of the First World War and saw the Legion asking the public to say "Thank You" to the whole First World War generation, to all who served, sacrificed and changed our world. Over 1 million acts of thanks and gratitude were undertake as part of the Legion's 'Thank You' movement.
Notes to Editors:
For further information please contact Fran Edwards, Public Relations Manager on fedwards@britishlegion.org.uk mobile 07786 437249 or Charlene Guy on cguy@britishlegion.org.uk mobile 07458 124853.
The Royal British Legion's work is encapsulated in its motto: Live On – to the memory of the fallen and the future of the living. The Legion is the nation's biggest Armed Forces charity providing care and support to all members of the British Armed Forces past and present and their families. The Legion is a champion of Remembrance and safeguards the Military Covenant between the nation and its Armed Forces. It is well known for the annual Poppy Appeal, and its emblem the red poppy www.britishlegion.org.uk