Long-time charity supporter Leonie Ranson has decided to run the VE Day 10k. Her husband, Commander Chris Ranson, served in the Royal Navy for 33 years and is now living with multiple sclerosis at Care for Veterans.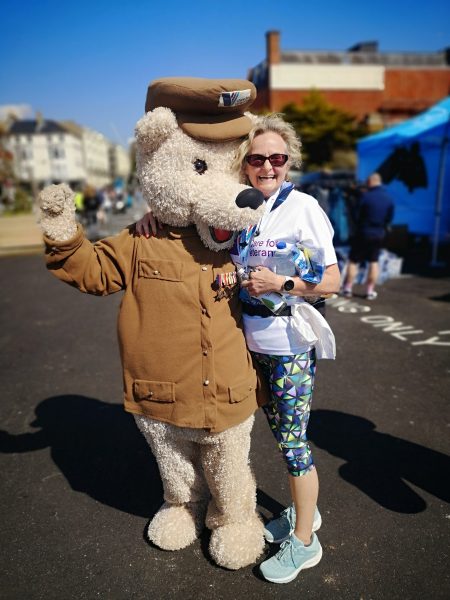 The VE Day 10k is a virtual race organised by Worthing-based charity Care for Veterans to honour the historic day and raise vital funds for disabled veterans' care. The 10k will see runners from all over the UK and beyond take on different routes on VE Day (Monday 8th May 2023) to mark the World War II anniversary of Victory in Europe.
Veteran wife, Leonie, has chosen to join these runners in their pursuit of remembering those who fought and supporting disabled ex-service personnel. Leonie shared her personal motivations for running the 10k and how she feels VE Day should still play an important role in our lives today.
Why did you choose to run for Care for Veterans?  
"I really appreciate just how much the staff [at Care for Veterans] do to go above and beyond to support the people in their care. They do it without any government help, whilst relying on members of the community for support, and they deserve every good thing that comes their way." 

"One of the great things about the home is that, due to the military background shared, everyone speaks the same language. [My husband] Chris was a Commander in the Royal Navy, and at Care for Veterans, he feels understood." 

"When Chris first moved into the home, I felt a massive sense of relief. The care he has received has been exemplary. If not for Care for Veterans, Chris would have passed away 3 years ago. I couldn't manage him by myself. Chris is a big, tall bloke who is difficult to move and could suffer falls without the right care." 
What does VE Day mean to you? 
"Both of my parents lived through the war in protected trades. My Dad constructed aircraft wings, and my Mum was an air engineer and made engines. I'll never forget how they spoke about VE Day and the overwhelming sense of relief that they experienced. VE Day is now an opportunity for us to assess how Europe has developed and reflect on the friendships and links that have been created together. We should only forget this at our own peril. After all, you look back to learn how to move forward." 
Tell us about your VE Day 10k plans  
Leonie, who is a member of Bognor Regis Tone Zone Runners Club said,
"I'm going to plot a new route which will take me past war memorials, including Barnham, Eastergate and Aldingbourne where there is a Commonwealth Graves site. It feels like a fitting way to remember the sacrifices made and to motivate me whilst running." 
Head of Fundraising and Marketing Christine Gillott stated,
"Leonie is an incredible supporter, and her dedication to raising vital funds for the veterans in our care is inspiring. Leonie has been involved in several fundraising events before this one, and each time comes back with a refreshed determination to make a tangible difference to our residents' lives. We will always be deeply grateful for the time and effort she has given to ensure our services' continuity ".   
If you would like to support Leonie in her run, please head to www.careforveterans.org.uk/donate
To sign up for the VE Day 10k, head to www.careforveterans.org.uk/ve-day-10k-race