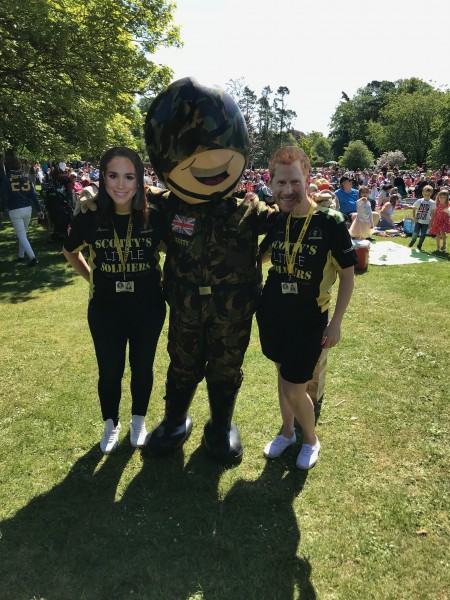 Children's Armed Forces charity, Scotty's Little Soldiers, was chosen as one of seven charities to benefit from donations made to the Royal Wedding last month, and thanks to the Royal couple, the charity has received an incredible swell of awareness thanks to the new Duke and Duchess's support over the last few weeks.
All press and media activity surrounding the Royal Wedding has helped raise the charity's profile both on a national and international scale and within the third sector significantly.
The whole Scotty's team are hoping the extra awareness will lead to more bereaved Forces children, who perhaps didn't know about the charity reaching out for support, as well as more people getting involved with the charity through fundraising, volunteering or donating in the future.
Charity founder, Nikki Scott said: "When we first received the call from The Palace, it came as a total surprise and the past few weeks has been incredibly exciting for me and for the charity.
"We have been overwhelmed with the support and increased engagement through social media. And for the first time we've received donations come from countries such as the US, Spain, Germany and Japan which has been absolutely fantastic.
"There are so many gaps that we have identified in the current support available to bereaved Forces children and young people and we need the great British support to full those gaps."
-Ends-
Notes to editors
To speak to a member of the Scotty's Little Soldiers team, please contact Scotty's national PR agency: Claire Lomax (claire@wolfstarconsultancy.com), Chris Grayson (chrisg@wolfstarconsultancy.com), Fran Wyatt (fran@wolfstarconsultancy.com) or 0113 273 7816.
About Scotty's Little Soldiers
Scotty's Little Soldiers, founded in 2010, honours Corporal Lee Scott's memory – both as a loyal soldier and a loving father – and provides a practical yet personal way for the public at large to show their appreciation for those brave individuals who make the ultimate sacrifice in the service of their country. Currently Scotty's Little Soldiers supports 344 bereaved children and runs a variety of programmes to help children smile again and look forward to a brighter future. You can visit the charity online at http://www.scottyslittlesoldiers.co.uk/