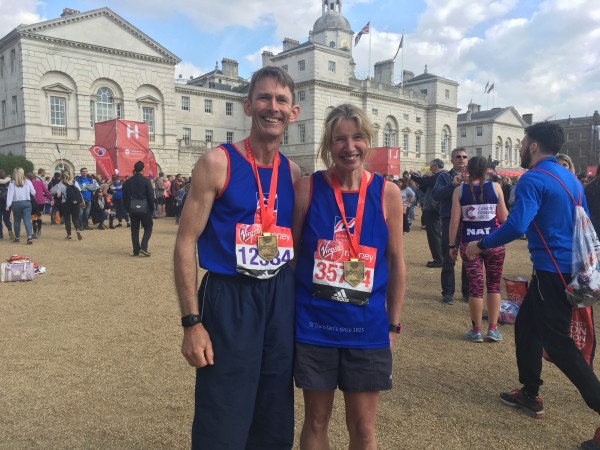 A man from Rutland is took on the London Marathon for Blind Veterans UK, the national charity for vision-impaired ex-Service men and women.
Jeremy Greville-Heygate, 55 and from Burrough on the Hill, completed the world famous course with his wife, Emma. Jeremy finished the course in four hours twenty-six minutes, while Emma completed it in five hours six minutes.
He says: "We both had brilliant fun and really appreciated the Blind Veterans UK cheering point at mile 17. That was the hardest part of the course and really gave me a boost!"
He continues: "Some highlights were undoubtedly the noise and humorous support from the crowds the whole way round the course. I also managed to overtake a giraffe a few hundred metres before the finish. All the other character costumes were brilliant too, at one point we were both neck and neck with various washing machines, rhinos, helicopters and the like. What I had not appreciated beforehand was that some of those novelty runners are very quick, in spite of their costumes!"
Emma adds: "One of the more thought-provoking moments for me was overtaking a very intense Jesus carrying a huge cross on his back in a loincloth and bare feet, before returning to the jollity of the occasion as Orinoco the Womble then shot past. It was all very mad, a bit like the current fibre Broadband advert on TV with everyone racing down the tube!"
Jeremy himself has a military background, having flown the Harrier with No 1(F) Squadron at RAF Wittering.  He served in the Royal Air Force for eight years, before leaving as a Flight Lieutenant in 1990.
Keen to continue a life in the skies, Jeremy then began a career as an Airline Pilot with Monarch Airlines, an official partner of Blind Veterans UK. It was through this connection that Jeremy first became exposed to the charity; initially volunteering at the Cenotaph for the charity's annual Remembrance commemorations before then taking part in the annual 100 kilometre walk from London to Brighton, which he completed in 23 hours
He says: "The charity supports young people, old people, men and women; all with various connections to one another and with experience across all three services. I was truly impressed by the diversity."
2017 is not the first time Jeremy has tackled a marathon course, having previously completed one in four hours 40 minutes whilst studying at Cambridge in 1980.
To support Jeremy, please visit justgiving.com/fundraising/shetoldmetoenter
Blind Veterans UK was founded in 1915 and the charity's initial purpose was to help and support soldiers blinded in the First World War. But the organisation has gone on to support more than 35,000 blind veterans and their families, spanning WWII to recent conflicts including Iraq and Afghanistan.
For more than a century, the charity has been providing vital free training, rehabilitation, equipment and emotional support to blind and vision-impaired veterans no matter when they served or how they lost their sight. Visit blindveterans.org.uk/support to learn more about the charity and how you can support its vital work today.
For all media enquiries please contact: Felix Arbenz-Caines, PR Assistant, Blind Veterans UK, 12 – 14 Harcourt Street, London, W1H 4HD, E: Felix.Arbenz-Caines@blindveterans.org.uk, T: 020 7616 7941
Blind Veterans UK
Blind Veterans UK is a national charity that believes that no-one who has served our country should have to battle blindness alone. Founded in 1915, the charity provides blind and vision impaired ex-Service men and women with lifelong support including welfare support, rehabilitation, training, residential and respite care.
Find out more at: blindveterans.org.uk, follow us on Facebook at: facebook.com/blindveteransuk and on Twitter at: twitter.com/blindveterans.
We are Blind Veterans UK the national charity for vision-impaired ex-Service men and women. To learn more about us please visit our website at: http://www.blindveterans.org.uk or call us on 0300 111 2233. Patron: Her Royal Highness The Countess of Wessex GCVO. A company Limited by guarantee No. 189648 Registered Charity No. 216227 (England & Wales) and SC039411 (Scotland) Registered in England at 12-14 Harcourt Street, London W1H 4HD The information in this communication and any attachments is confidential and is intended solely for the addressee. Access, copying or re-use of information in it by anyone else is unauthorised. Any views or opinions presented are solely those of the author and do not necessarily represent those of Blind Veterans UK or any of its affiliates. If you are not the intended recipient please contact Blind Veterans UK, London, UK, tel:+44 (020) 7723 5021, fax:+44 (020) 7262 6199 or send an email to: administrator@blindveterans.org.uk.