The Armed Forces Covenant Fund Trust (the Trust) has made the first awards under the popular Positive Pathways programme, part of the Veterans' Mental Health and Wellbeing Fund.
Over £2.5 million has been awarded in the first round to support activities including vehicle restoration, sports for disabled veterans, sailing and sewing!
Awards have been made across the UK. One awardee, Bravehound, based in in Scotland, will deliver a project bringing veterans and dogs together to walk the West Highland Way as well as take part in dog shows, gardening projects and camping activities.
Surf Action were another group to receive funding, with the group offering low-impact, enjoyable group activities, such as surfing, kayaking, and shore activities, with the assistance of other veterans and professionals.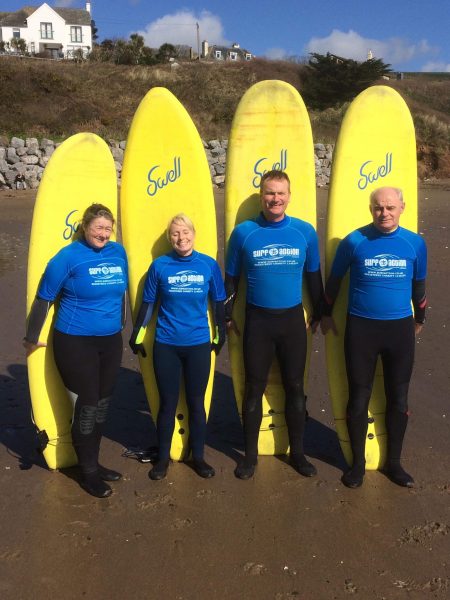 Mark from Surf Action said:
"We're delighted to receive funding for our 'Blue Health Recovery Pathway'. This funding will allow us to extend our highly successful ocean/surf therapy and physical/psychological support to the veteran community across Devon and Cornwall. "
The final round of the Positive Pathways programme closes on 6 March 2020. This has been an extremely competitive programme so far, and the Trust is expecting rounds two and three to be equally competitive.
For full programme details, plus all you need to know about the Armed Forces Covenant Fund Trust, visit their website www.covenantfund.org.uk  
Notes for Editors
The Armed Forces Covenant Fund Trust is an independent charity that manages the grant programmes funded by the Covenant Fund.
We also run wider funding programmes that support the Armed Forces community.
The Positive Pathways programme awards grants of up to £70,000 for projects running activities that can boost mental wellbeing in veterans. Projects must be activity based. This might be:
sports
arts/culture activities such as music or theatre
getting outside, for example gardening activities
heritage projects such as conservation or archaeology.
The Strategic Pathways programme made awards to six organisations to provide support and mentoring to organisations delivering activities and opportunities under the Positive Pathways Programme. Strategic Partners including Cobseo, DMWS, Walking with the Wounded and Hafal can provide support to organisations seeking to apply for a grant. Positive Pathways is a popular programme, and grants are competitive.
Media contact: Sonia Howe, Director of Policy Sonia.howe@covenantfund.org.uk