A Sale Sharks rugby player has become an official ambassador of Broughton House after being inspired when he visited the veterans' care home in Salford as part of a club community programme.
Young hooker Curtis Langdon met a number of residents during the trip, including 95-year-old former Royal Marines commando George Simms.
George, who is from Manchester, volunteered at the age of 18 and was selected for service in the elite Royal Marine Commandos. He saw some of the fiercest fighting of the war during the Allied invasions of Sicily and Normandy in World War Two.
He was injured twice – in Sicily in 1943 and then on D-Day at Sword Beach during the Normandy Landings. George still has shrapnel in his body from that incident.
Curtis went to Broughton House after first meeting George at a Sale Sharks game earlier this season, where the veteran made him promise to pay a visit to the home soon afterwards.
The player, along with fly-half AJ McGinty and Community Trust coach Craig Monaghan, spent an afternoon with residents as part of the club's 'Sharks Forces' programme, which aims to support veterans or ex-forces personnel in the north west.
Curtis said:
"My father Matt was a serving Royal Marine, so hearing more about what life in the forces was like was amazing, and the stories were genuinely inspiring.

"It was an honour to meet so many veterans late last year at one of our home games such as George, which definitely inspired me to go visit Broughton House and to see the amazing work that the charity provides for military veterans.

"By becoming an ambassador, I hope to help raise the profile of the charity even more and offer my support wherever I can."
Broughton House chief executive Chris Lindsay said:
"We are delighted that Curtis has agreed to become an ambassador of Broughton House.

"We're extremely grateful for the time he and others at Sale Sharks have taken to meet our residents and take an interest in their stories and the re-development of Broughton House.

"As a local charity we rely heavily on the support of people in Greater Manchester and it's fantastic to have Curtis on board as an ambassador for the home and the work we do.

"As a member of the local community and as a role model for the younger generation, the dedication shown to Broughton House by Curtis is inspirational. We look forward to working with him in the future."
Craig, an ex-soldier who is the lead project officer for the Sharks Forces programme, said:
"The Sharks Community Trust hosted more than 200 veterans at a game in November and, shortly after, we had the opportunity to meet with some of the incredible veterans who are benefiting from the charity's support.

"It was amazing for Curtis, AJ and I to hear the stories and heroics from many of the brave veterans and to find out more about the outstanding work taking place at the charity.

"It's fantastic that this visit has resulted in Curtis deciding to become an ambassador to help promote the work and care that takes place at Broughton House."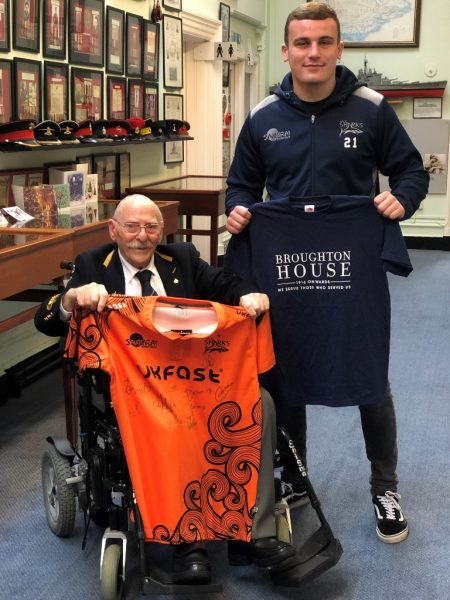 Broughton House is currently undergoing a £14m redevelopment which will see the north west's first Veterans Care Village created on the site.
ENDS
Notes to editors
The attached photograph shows Curtis Langdon with George Simms at Broughton House.
For more information contact Rhys Edwards, marketing and fundraising manager at Broughton House, via rhys.edwards@broughtonhouse.com or 0161 740 2737 or 07368 266823.
For more information on Broughton House, visit www.broughtonhouse.com
For more information about the Sale Sharks Community Trust, visit www.salesharks.com/community