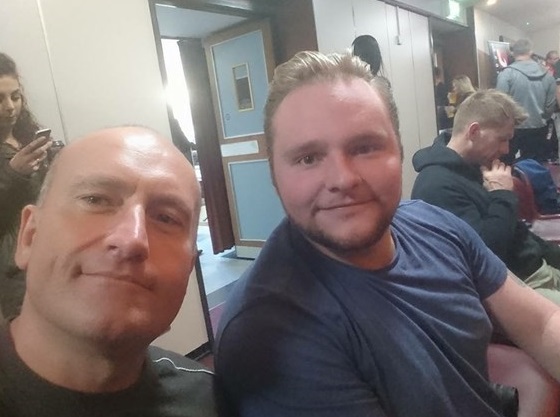 A Sales Executive from Malvern is training to complete a 100 kilometre walk in the Yorkshire dales for Blind Veterans UK, the national charity for vision-impaired ex-Service men and women.
Alex Woosman, 21 and from Shrewsbury, will be competing in the event, which takes place from 23 – 24 June, with his father, John. He explains: "I saw the advert and thought it looked like a great challenge and a fantastic way to raise money for charity.
"I'd never heard of Blind Veterans UK before, but after a short bit of research it became clear to me that this was an incredibly worthwhile cause. The work the charity does in helping vision-impaired veterans regain their confidence and independence is incredible and I'm looking forward to helping raise its profile.
"My grandad served in the Royal Navy during the Second World War and my dad served in the Territorial Army in Afghanistan, so it's safe to say I have boundless respect and appreciation for the work the brave men and women of our Armed Forces do.
"I myself am planning on signing up to the Royal Marines Reserve later this year, so this event will give me the opportunity to prove to myself that I have what it takes!"
While Alex, who works at Startin Skoda in Worcester, admits he's feeling nervous ahead of the challenge, he maintains he's looking forward to getting stuck in with several practice walks. He says: "I need to get a lot fitter before the walk. Make no mistake, 100km is a daunting prospect!
"In a way, that's what's so exciting though, I'm enjoying the training and have a number of walks lined up in the lead up. I'll be making the most of my weekends and weekday evenings, making sure I reach peak physical condition. The aim is to finish it in 20 hours or below."
With the hard training now underway, Alex is keen to encourage others to challenge themselves while also supporting a worthwhile cause. He says: "It's all about the mind-set and whether or not you're willing to push yourself to the limit! It's such a great cause, and one that'll offer so much reward once you've completed it. There really are no excuses!"
The 100k Yorkshire will take place from 23 – 24 June 2018. It will see participants start and finish at Darley Memorial Hall in Nidderdale, with a circular route which passes through Brimham Rocks, Ripley Castle and an abundance of stunning fields.
Registration is now open with a fee of £40 for individual and team entrants, and £90 for relay teams. There is a minimum sponsorship pledge of £300 for individuals, £1,250 for teams and £500 for relay teams. The all-inclusive entrance fee includes lunch, dinner and breakfast at numerous rest stops, snacks and refreshments along the route and a free event t-shirt.
To support Alex as he takes on the 100k for Blind Veterans UK, please visit: justgiving.com/alex-woosnam-100k.
To sign up for the Blind Veterans UK 100k, please visit blindveterans.org.uk/100k.
For all media enquiries please contact: Felix Arbenz-Caines, PR Assistant, Blind Veterans UK, 12 – 14 Harcourt Street, London W1H 4HD, E: Felix.Arbenz-Caines@blindveterans.org.uk, T: 020 7616 7941
Notes to Editor
Blind Veterans UK
Blind Veterans UK is a national charity that believes that no-one who has served our country should have to battle blindness alone. Founded in 1915, the charity provides blind and vision impaired ex-Service men and women with lifelong support including welfare support, rehabilitation, training, residential and respite care.
Find out more at: blindveterans.org.uk, follow us on Facebook at: facebook.com/blindveteransuk and on Twitter at: twitter.com/blindveterans.