A former army sergeant from Salford has raised nearly £4,000 for Broughton House Veteran Care Village by having his head and beard completely shaved.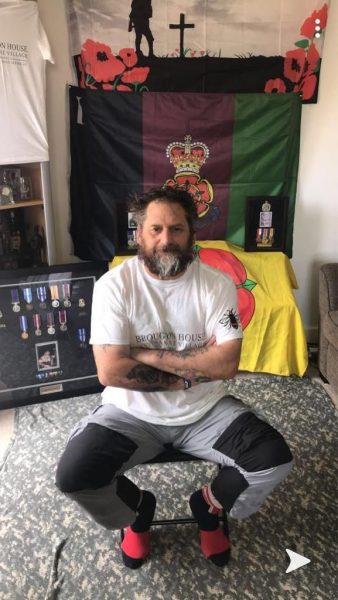 Ian Ward, 57, last had a haircut and shave before lockdown started.
His partner Diane Richardson got out the scissors, clippers and razor to shear him in support of the Salford home for ex-servicemen and women.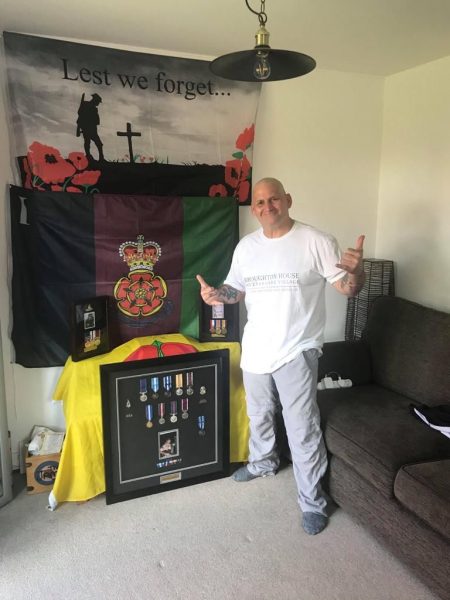 Ian, a father-of-two, served in the Queen's Lancashire Regiment and the Royal Horse Artillery for more than 20 years in total. His father served in the Royal Artillery for 24 years.
Meanwhile Diane, a hospital sonographer, has a long-standing connection to Broughton House.
Her aunt and uncle worked there, and her father, who was in the Royal Navy, delivered prescriptions to Broughton House residents for a local pharmacy after leaving the service.
Ian, who now lives with Diane in Featherstone, West Yorkshire, is a shunter driver for DHL.
He raised just over £1,900 himself including Gift Aid, and DHL has pledged to match the total.
Ian said:
"I've never had my hair so long – it's normally a number two back and sides for me and my beard had always been tidy until lockdown.

"My friends called me Worzel Gummidge because of my appearance, so when I decided to have a haircut and shave I thought it would be good to do it for charity.

"Being a former serviceman myself, and knowing about the fantastic care that Broughton House has given to veterans for more than a century, I decided to support it as it's a great cause, knowing they are raising money for the UK's first Veteran Care Village."
Rhys Edwards, fundraising and marketing manager at Broughton House, said:
"Ian has managed to raise a fantastic amount for Broughton House and our residents really appreciate his support.

"As we transition into the next phase of our state-of-the-art Veteran Care Village, it's great to have the support from individuals based all over the country."
The £15m redevelopment of Broughton House into the UK's first Veteran Care Village will see the two-acre site comprise a 64-bedroom care home, up to 30 independent living apartments, a military support hub, a memorial park and landscaped gardens with a bowling green and bandstand.
Donations to Ian's fundraising efforts can be made via https://www.justgiving.com/fundraising/ian-ward26