Across the country, thousands of volunteers took to the streets to collect for the 2019 Scottish Poppy Appeal. A day before Remembrance Sunday, it was one of the last opportunities for the Scottish public to pick up a poppy and make a donation to help support the country's Armed Forces community.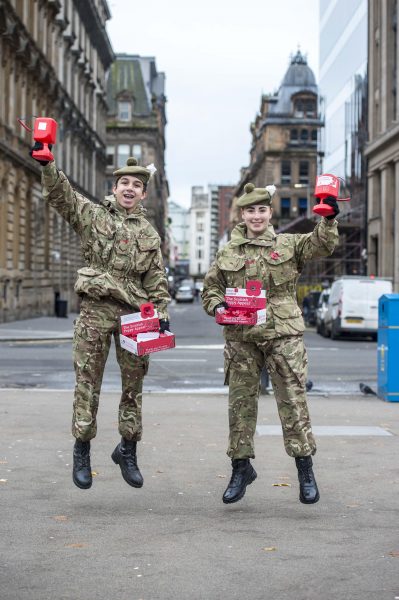 In the West of Scotland, more than 200 Army Cadets from the Glasgow and Lanarkshire Battalion were collecting in the city centre. In addition, the Royal Marines Association was collecting in Buchanan Galleries, while the Royal Artillery Association was at Central Station. In addition, more than 100 Cadets were deployed across Ayrshire.
Up north, towns and villages across the region were coming together in support of the Scottish Poppy Appeal. From Fort William to Fraserburgh volunteers, including hundreds of members of the Royal British Legion Scotland, were out in force, braving the cold temperatures.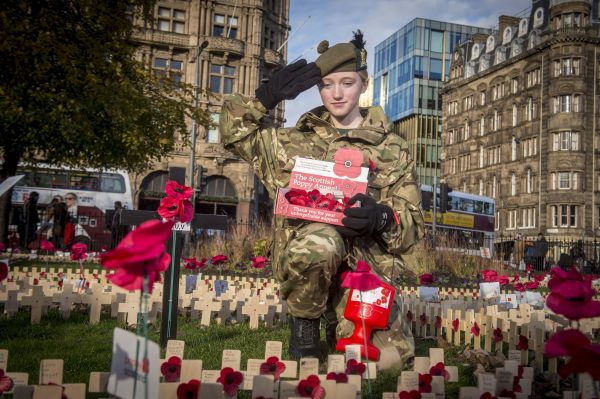 And in the east, more than 100 Cadets from all branches of the military were collecting on the streets of Edinburgh. This wonderful effort was bolstered by a further 20 supermarkets across Edinburgh being targeted with collectors ranging from Poppyscotland staff, current and former Service personnel and Poppyscotland's group of dedicated volunteers.
One such volunteer in Edinburgh was 33-year-old Alex Imrie who is in his 20th year of collecting – and received a badge and certificate for his sterling efforts. Alex, from Edinburgh, whose grandparents served during the Second World War, said:
"For me, it is the people who serve that make the military what it is and that's why I enjoy coming out to collect for Poppyscotland each year.

"The Armed Forces represents a collection of men and women, from various walks of life, who share a remarkable willingness to commit to a lifestyle of service, and to put their bodies and lives on the line in ways that the rest of us would, understandably, shy away from. It is a unique career path that not everyone is suited for – myself included.

"Poppyscotland is an invaluable charity in that it simultaneously recognises and honours the sacrifices that people make while serving, but also ensures that there is support for life after and beyond the forces for those that need it. It is an organisation that I am honoured to help in my own, small way."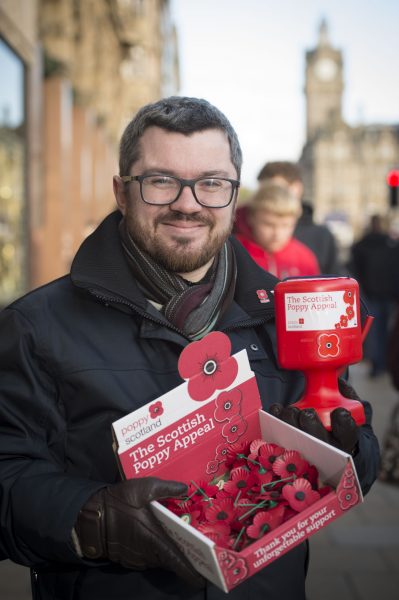 As well as thousands of volunteers manning collections, supporters were also undertaking a host of other fundraising activities in support of the 2019 Appeal. Two sixth year pupils, from Calderwood High School, in East Kilbride, organised a dog jog event around Calderglen Country Park.
The schools' charity ambassadors, India and Kirstin, said:
"We usually do a Remembrance service in the school, but we wanted to go that bit further try and raise more money for Poppyscotland. We've had pupils, teachers and parents coming along with, and without, dogs to walk and jog around the park to raise funds for the charity. We're Advanced Higher History students and it's a topic we're really interested in and we wanted to raise as much money as possible."
Gordon Michie, the Head of Fundraising at Poppyscotland, said:
"This has been a wonderful day and it is incredible to witness the public's engagement with our army of volunteers. We cannot thank people enough for their support. It's their donations that mean we can continue to provide life-changing support for our Armed Forces community and their families.

"And all of this is only possible thanks to our volunteers, particularly our young volunteers from the youth uniformed organisations that have come out in this year of young people. It's also amazing to see people doing all sorts of other fundraising across the country, too.

"While the money raised from tin donations is vital, it is equally important that we have people going the extra mile and doing other types of fundraising, both this weekend and indeed throughout the rest of the year. Their collective efforts will ensure that we never forget the sacrifices made by our Forces personnel and that we are behind them. Always."
Money raised from the Scottish Poppy Appeal and the charity's year-round fundraising helps to provide support to members of the Armed Forces community in Scotland by providing tailored funding and assistance. The charity also funds services in advice, employment, housing, mental health, mobility and respite.
Notes to Editors
For further information and all media enquiries, please contact David A. Findlay, PR Manager at Poppyscotland, on 079797 35611, or email at d.findlay@poppyscotland.org.uk.
Pictures are free to use. Where appropriate, please credit: M Owens/Poppyscotland.
Poppyscotland provides life-changing support to the Armed Forces community. Money raised from the Scottish Poppy Appeal and Poppyscotland's year-round fundraising enables them to deliver support to members of the Armed Forces community in Scotland by providing tailored funding and assistance. The charity also funds services in advice, employment, housing, mental health, mobility and respite. Please note that we are known as "Poppyscotland", and not "PoppyScotland" or "Poppy Scotland". For more information, please visit us at: www.poppyscotland.org.uk.