With the coronavirus pandemic forcing Remembrance Sunday events across the country to be cancelled, thousands are expected to observe the two-minute silence at 11am this morning (Sunday 8 November) from the doorsteps of their homes.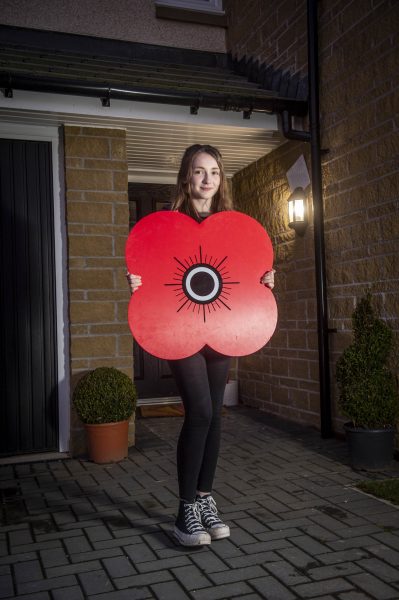 Chief Executive of Legion Scotland, Dr Claire Armstrong, said:
"It is deeply disappointing that remembrance events are being impacted in this way given their importance to so many people. Coronavirus must not cancel remembrance, but public safety is paramount.  We are calling on everyone to take to their doorsteps at 11am on Remembrance Sunday and Armistice Day to observe the two-minute silence. We must be united in spirit, if not in person, to ensure that we pay our respects to those who have made the ultimate sacrifice." 
Veterans, serving military personnel and members of the public, young and old, have been reflecting on what remembrance and the poppy means to them.  Amongst them was Second World War veteran Cathy Drummond.  The 98-year-old from Dunfermline served as a radio operator in the Women's Auxiliary Air Force from 1941 to 1944 and said:
"Remembrance makes me think of the men and women who have lost their lives, including my husband. It is very sad every year. We will remember them."
City of Edinburgh Garrison Sergeant Major Scotty McFadden, speaking from the steps of the Scottish National War Memorial at Edinburgh Castle, said:
"Regardless of your background, for a short time each year it brings people come together, remembering not to take for granted what we have today and the sacrifices that have been made."
Veteran Ronnie Wilson served with the Queen's Own Cameron Highlanders in Korea and Aden reflected from his doorstep in Edinburgh by saying:
"Remembrance means everything to me.  The poppy represents the lads that have died in all wars and the respect that I have for that."
12-year-old Sophie Henderson from Troon, who penned a poem entitled In Future Fields as the winning entry of Poppyscotland's learning competition in 2019 added:
"To me it means hope and peace, and remembrance of the soldiers who gave their lives to save other people."
On Remembrance Sunday, Legion Scotland and Poppyscotland will be broadcasting the national service of remembrance that is being held at the Scottish National War Memorial at Edinburgh Castle live on Facebook, while the BBC will be broadcasting live coverage from the Cenotaph in London.  On Armistice Day, Wednesday 11th November, the charities will again be broadcasting a virtual service of remembrance.