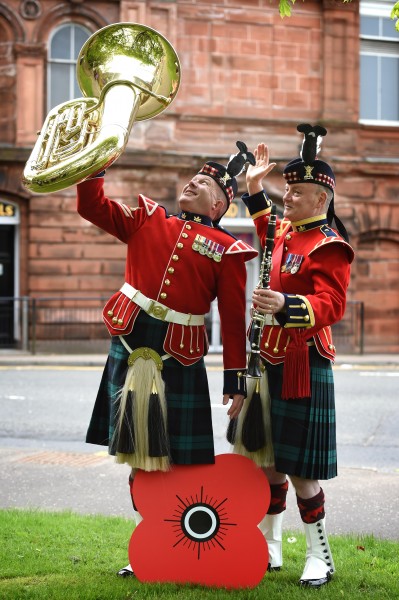 Scotland's best-known military band, which is in the midst of its first-ever national tour, is all set to perform in Kilmarnock after receiving a warm welcome today from the Provost.
The Band of The Royal Regiment of Scotland is performing at seven venues across the country as part of its "Walking with Heroes" centenary tour which is aiming to raise tens of thousands of pounds for leading Armed Forces charity Poppyscotland.
Scotland's State Band, as it is also known, will be performing at the Kilmarnock Grand Hall on June 15th, but, earlier today, members of the Band local to the area joined East Ayrshire Provost Jim Todd and the Poppyscotland team to spread the word about the eagerly anticipated concert.
Provost Todd said: "What a treat it will be to have Scotland's best-known military band play in Kilmarnock. I would encourage people to get their tickets for this concert as soon as possible as I'm sure it will be an incredible experience and one that will hopefully raise thousands of pounds for Poppyscotland. It will be a fine and fitting tribute to those who served and to those who gave their lives so selflessly in The Great War."
Joining the Provost was Cpl Kevin Turnbull, who was originally from Kilmarnock, but now lives in Stewarton. Cpl Turnbull, 47, who plays the B flat bass, has been a bandsman in the Army for 17 years and is particularly excited about the Kilmarnock leg of the tour. He said: "My mum, my partner and my two sons will be there and it will be the first time I have performed in my hometown since I played in the musical Oklahoma when I was at Grange Academy.
"I love being in the band; it's the best job I have ever had and I'm really looking forward to the concert. I have been lucky enough to have played some incredible venues in my career, like the Royal Albert Hall, but playing the Grand Hall in Kilmarnock next month will be extra special. It's also for a really important cause, so we're hoping for a full house. If you haven't got your tickets yet, then please get ordering as soon as you can!"
Cpl Turnbull was alongside bandmate Sgt Steve Potter, 58, who plays the clarinet. Sgt Potter lives in Strathaven, South Lanarkshire, but worked in Kilmarnock for eight years as a driving school manager. He originally joined the Scot Guards Band in 1978, but left in 1992. He then re-joined in 2004 and has been a bandsman for a total of 29 years.
To accompany the centenary tour, there is also a CD – Walking with Heroes – which will commemorate 100 years since the end of The Great War, and honour those that served our nation so valiantly. The programme includes works by such iconic composers as Holst, Shostakovich, John Williams and Karl Jenkins alongside new compositions and arrangements. These include traditional Scottish fayre and feature a whole host of soloists; in particular the unmistakable skirl of the pipes!
As well as the tour itself, the band is undertaking another fundraising effort in the form of The 1918 Poppy Pledge. Not only is this a lasting tribute to those who fell in the First World War, but, importantly, will also allow the Poppyscotland to make a step change in the scale of support it is able to provide those in the Armed Forces community who rely on the charity's support today.
ENDS…
Notes to editors
For further information and to arrange an interview, please contact David A. Findlay, PR Manager at Poppyscotland, on 0131 550 1580 or 079797 35611, or email at findlay@poppyscotland.org.uk.
The Band of The Royal Regiment of Scotland tour schedule is as follows:
| | | | | |
| --- | --- | --- | --- | --- |
| | Location | Venue |   Address | Dates |
| 1 | Fife | Carnegie Hall |   East Port, Dunfermline, KY12 7JA | 19th April |
| 2 | Glasgow | Royal Concert Hall |   2 Sauchiehall Street, Glasgow, G2 3NY | 11th May |
| 3 | Edinburgh | Central Hall |   2 W Tollcross, Edinburgh, EH3 9BP | 12th May |
| 4 | Kilmarnock | Grand Hall |   9 Green Street, Kilmarnock, KA1 3BN | 15th June |
| 5 | Perth | Concert Hall |   Mill Street, Perth, PH1 5HZ | 22nd September |
| 6 | Aberdeen | Beach Ballroom |   Beach Promenade, Aberdeen , AB24 5NR | 28th September |
| 7 | Inverness | Inverness Cathedral |   15 Ardross Street, Inverness, IV3 5NS | 20th October |
Poppyscotland provides life-changing support to the Armed Forces community. Money raised from the Scottish Poppy Appeal and Poppyscotland's year-round fundraising enables them to deliver support to members of the Armed Forces community in Scotland by providing tailored funding and assistance. The charity also funds services in advice, employment, housing, mental health, mobility and respite. Please note that we are known as "Poppyscotland", and not "PoppyScotland" or "Poppy Scotland". For more information, please visit us at: poppyscotland.org.uk.
The Band of the Royal Regiment of Scotland is one of the 22 Regular Army bands and is based at Dreghorn Barracks, Edinburgh. It is a symphonic wind band with the additional capability of a Ceilidh band. The main role of the band is to support the Army, the State and Ceremonial occasions that occur within Scotland.
To contact Provost Jim Todd, please get in touch with Secretary to the Provost Cheryl Paton on 01563 576036, or at paton@east-ayrshire.gov.uk.