The Scottish Veterans Minister, Graeme Dey, recently visited Glasgow Helping Heroes to experience first-hand it's crucial work with Armed Forces Community.
Staff and beneficiaries spoke to the Minister about the specialised support provided by the Glasgow's Helping Heroes drop-in centre. The visit also gave the Minister a chance to discuss the Scottish Government's work with the Armed Forces Community across Scotland and how this is evolving after the recent consultation on the Veterans Strategy.
Glasgow's Helping Heroes is a partnership between SSAFA, the Armed Forces charity and Glasgow City Council, to support the serving community, veterans and their families. The team offer holistic help and advice on issues such as housing, employment and training, dealing with debt or financial issues as well as assistance relating to health problems.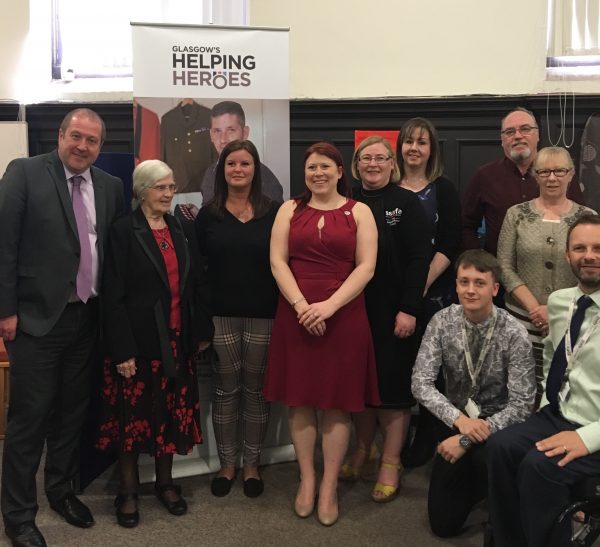 Veterans Minister Graeme Dey said:
"I am very pleased to be able to hear first-hand about the valuable work being done both with and on behalf of those in our veterans' community who, for whatever reason, have found themselves requiring additional support.

"We established the Scottish Veterans Fund to assist the groups and organisations already providing excellent support to Scotland's ex-Service personnel and their families. Glasgow's Helping Heroes is a great example of exactly that, and I'm delighted that the Scottish Government is able to support them as they develop that work further."
Rachel Tribble, Service Manager Glasgow's Helping Heroes, said:
"A visit from the Veterans Minister shows that the Scottish Government takes the support of the Armed Forces Community very seriously.

"We were delighted to be given the opportunity to discuss our work, particularly the huge advantages of the holistic approach we have when working with beneficiaries."
 Glasgow's Helping Heroes is a service for veterans and their families who live or work in Glasgow, helping those who are homeless or at risk of homelessness, as well as those struggling with tenancies.
Find out more about how you can support Glasgow Helping Heroes by visiting www.glasgowshelpingheroes.org
SSAFA, the Armed Forces charity, has been providing lifelong support to our Forces and their families since 1885. Last year our teams of volunteers and employees helped more than 82,000 people in need, from Second World War veterans to young men and women who have served in more recent conflicts, and their families. SSAFA understands that behind every uniform is a person. And we are here for that person – any time they need us, in any way they need us, for as long as they need us.
For more information visit www.ssafa.org.uk and follow us on Twitter: @SSAFA.