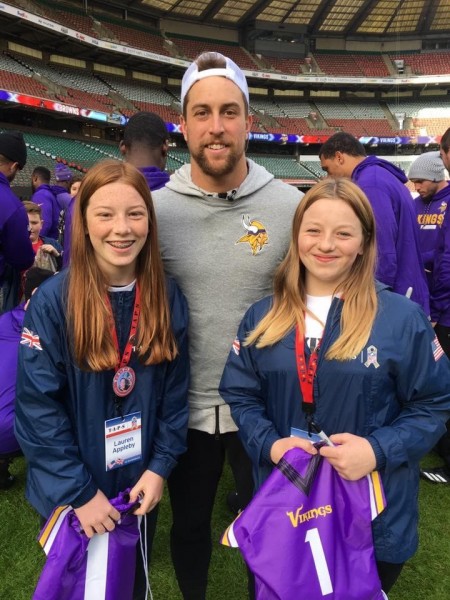 NFL's Minnesota Vikings host bereaved Forces children ahead of Twickenham debut
Eight bereaved Forces children from Armed Forces charity, Scotty's Little Soldiers, came face to face to American sporting legends this weekend, as they went behind the scenes at Twickenham Stadium, ahead of the NFL's clash between Minnesota Vikings and Cleveland Browns.
The children, who have all lost a parent while serving in the British Armed Forces, spent the morning on Saturday (28th) with the Minnesota Vikings team and coach who helped them get to grips with American Football before watching the game live on Sunday (29th).
The event, which was organised by the American military bereavement charity, Tragedy Assistance Program for Survivors (TAPS), was part of a wider program to provide bereaved UK military families the opportunity to come together with military families in the USA and to help widen the support network for every bereaved Forces child across both countries.
Scotty's Little Soldiers founder, Nikki Scott said: "Our Armed Forces in the UK have long worked alongside their US partners, so it makes perfect sense to us, as a charity for bereaved British Forces families, to have a close relationship with organisations providing similar support over in America.
"We're very grateful to TAPS, the US Embassy and the NFL for involving Scotty's Little Soldiers in the weekend's activities and providing such a fantastic opportunity for our beneficiaries to not only enjoy some wonderful entertainment but also to share experiences with other bereaved military families."
One of the Scotty's families in attendance was Kelly Appleby and her twin daughters Caitlin and Lauren, who lost their dad, Staff Sergeant Chris Appleby in December 2013 to cancer. Caitlin and Lauren both from Shefford in Bedfordshire, were just 10 years old when they lost their dad.
Kelly said: "It was just such a fantastic day it's hard to put it in words. The girls had a great time meeting everyone, it was phenomenal.
"What was amazing was meeting such a variety of people, who we will definitely keep in touch with. I can't thank Scotty's enough for giving us this opportunity."
In addition to the Twickenham visit, Scotty's families took part in a variety of activities over the course of the weekend, including a tour of the Tower of London and a visit to the US Embassy. The program also gave each child the opportunity to share their feelings with other children and draw on their experiences to help them through the difficult stages of life that occur from losing a parent at such a young age.
Scotty's Little Soldiers, CEO, Stuart Robinson said: "We may have withdrawn from Afghanistan, but the need to support the children our fallen heroes leave behind is more important than ever. More and more families are coming to Scotty's asking for help and we see how the effects of losing a
serving parent can be triggered at different stages during childhood. It's so important to these guys that they know the British public hasn't forgotten the sacrifices made and that our support is available to them when they need it."
For more information on Scotty's Little Soldiers visit www.scottyslittlesoldiers.co.uk
-Ends-
Notes to editors
To speak to a member of the Scotty's Little Soldiers team, please contact Scotty's national PR agency:
Claire Grew (claire@wolfstarconsultancy.com) or Chris Grayson (chrisg@wolfstarconsultancy.com) 0113 273 7816
About Scotty's Little Soldiers
Scotty's Little Soldiers, founded in 2010, honours Corporal Lee Scott's memory – both as a loyal soldier and a loving father – and provides a practical yet personal way for the public at large to show their appreciation for those brave individuals who make the ultimate sacrifice in the service of their country. Currently Scotty's Little Soldiers supports 329 bereaved children and runs a variety of programmes to help children smile again and look forward to a brighter future. You can visit the charity online at http://www.scottyslittlesoldiers.co.uk/