Bereaved Armed Forces children's charity, Scotty's Little Soldiers, has added Stuart Dark to its team this month, joining the charity as its new Grants and Trusts manager.
Stuart brings a wealth of experience in children's services to the Scotty's team, having overseen Norfolk county council's children's services department since 2017. In his time here, he took this large public body with an annual budget of £210M and legal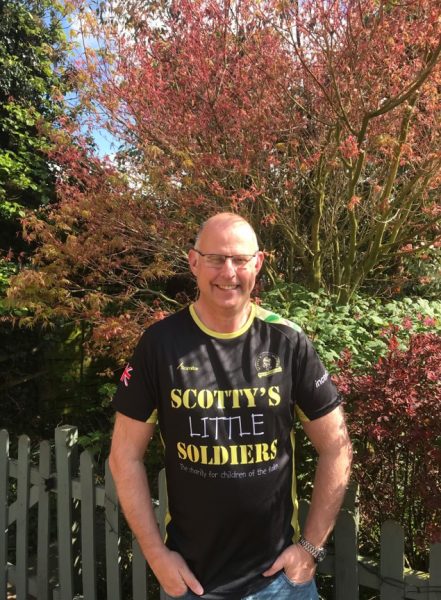 responsibility for the education of over 120,000 children, 1200 children in care and several hundred children at risk, significantly forward.
Prior to this, Stuart was a senior police officer in the Metropolitan Police, retiring after 30 years public service.  He is a holder of the service's seldom given, highest operational honour, awarded for his bravery and leadership whilst commanding the initial response in the SE Asian Tsunami.  Stuart gained significant relevant experience of children's charities and grants during his time in policing as the national and London lead of youth diversion schemes and as the lead of the review of children's grant giving for the London Mayor's Office.
Stuart's invaluable knowledge and experience is accompanied by significant fundraising expertise. Stuart created and led the ambitious 'Snettisham 45' 100th Anniversary of WW1 remembrance project last year which came to prominence when it was adopted by the RBL as an example of national best practice and became the centre piece of Sky News Remembrance Weekend coverage.
During the year, Stuart and 'Snettisham 45' visited the burial sites of all 45 of the village's fallen soldiers to conduct personal remembrance services, covering over 12,500 miles and 3 continents, raising over £18,000 for British military charities in the process, with £12,000 being donated to Scotty's Little Soldiers.
Founded by war widow Nikki Scott in 2010, Scotty's Little Soldiers supports children across the UK who have lost a parent while serving in the British Armed Forces. The charity was set up following the death of Nikki's husband and father to her two children, Corporal Lee Scott in Afghanistan in 2009. The charity's aim is to make children smile again.
On his new role, Stuart said: "I'm so pleased to be joining such a fantastic charity doing such great work. I can't wait to get started and to use my skills and experience to help them in their mission to make a positive difference to the lives of the children, young people and families they support." 
Scotty's Little Soldiers CEO, Stuart Robinson, added: "We are absolutely delighted to welcome Stuart to the team here at Scotty's Little Soldiers.  He brings with him a wealth of experience, not only in fundraising, but also in developing long-term strategic relationships which we strongly believe will help the charity in taking the next step in its development.  With Scotty's fast becoming the first point of contact for bereaved Forces families in the UK, the need for us to ensure we have the right resources in place to support families is vital and Stuart is a key part of our plans going forward."
Organisations interested in supporting Scotty's Little Soldiers and their work with bereaved Armed Forces families can contact Stuart at stuartdark@scottyslittlesoldiers.co.uk.
For more information on Scotty's Little Soldiers, visit: scottyslittlesoldiers.co.uk
Notes to editors
To speak to a member of the Scotty's Little Soldiers team, please contact Scotty's national PR agency: Claire Lomax (claire@wolfstarconsultancy.com), Chris Grayson (chrisg@wolfstarconsultancy.com), Fran Wyatt (fran@wolfstarconsultancy.com) or 0113 273 7816.
About Scotty's Little Soldiers
Scotty's Little Soldiers, founded in 2010, honours Corporal Lee Scott's memory – both as a loyal soldier and a loving father – and provides a practical yet personal way for the public at large to show their appreciation for those brave individuals who make the ultimate sacrifice in the service of their country. Currently Scotty's Little Soldiers supports 372 bereaved children and runs a variety of programmes to help children smile again and look forward to a brighter future. You can visit the charity online at www.scottyslittlesoldiers.co.uk