Members gathered with their families for a day filled with fun, laughter, snow and lots of slime!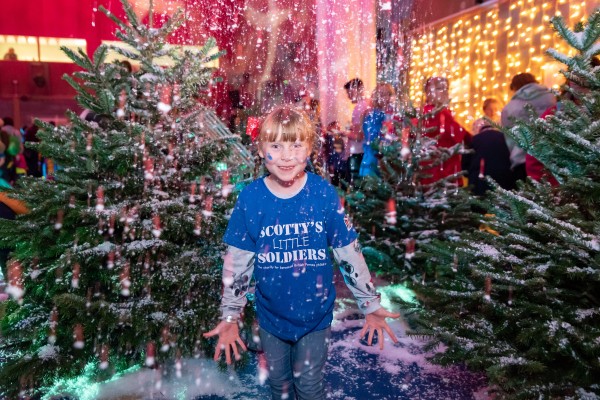 The children started their day with a group treasure hunt, giving new members the opportunity to meet and to get to know their fellow little soldiers. They were all then divided in to five teams and taken on a magical adventure.
Each member travelled through six different themed rooms, including a ball pit room containing over 60,000 balls, a curly wurly room where stretching and curling were the name of the game, Mrs Claus's kitchen where Christmas pudding was top of the menu, a slime room bursting with different kinds of slime, a UV Crazy room with UV face paint, 'fear pong' and UV twister and then finally, a snow filled Winter Wonderland.
Santa also stopped by to meet the children and provide them with an early Christmas gift.
For Scotty's members Isabelle, Molly and Emily Reynolds this was their first Scotty's Christmas Party experience and as their mum, Sarah explains, "they loved every moment."
The girls lost their dad, Sergeant Antony Reynolds on 1st July 2018 after he took his own life.
She said: "The girls had an absolutely amazing time, they had smiles on their faces for days afterwards and told everyone they could about it. They loved the ball pit and the slime and even my eldest got involved.
"What I really enjoyed was getting to know everyone and making new friends, everyone was so welcoming. I wasn't sure whether I was going to go but I'm so glad that we did. I can't thank Nikki and the Scotty's team enough. I already have it in the diary for next year."
For eleven-year-old Hamish Trotter, this year's party meant more than ever. His mum, Sarah Judd explained: "The Scotty's Christmas party does exactly what it says on the tin, helping us smile! We've had a rough time recently, and until last week Hamish didn't want to do Christmas.
"He didn't want presents, he wasn't going to write a Christmas list and he wasn't bothered whether we came to the party or not. But we laughed so much in the car and at the party."
Nikki Scott, the founder of the charity, is determined to make each party bigger and better every year. She said: "Christmas is one of the most difficult times for our members, so the Christmas party is a chance for them all to come together and enjoy time celebrating the festive season.  For some of our beneficiaries it is the first Christmas without one of their parents so it's even more important they realise they are not alone and there are other children going through the same experience as they are. 
"We see some really special bonds created between our members at events like this, friendships which will last a lifetime.  It's also a great opportunity for their surviving parent to meet other parents and share experiences and advice. For us, events like the Christmas Party are so important as they help us to engage with bereaved families and build a trust which opens opportunities to provide further assistance through our SUPPORT and STRIDES Programmes."
For more information on Scotty's Little Soldiers visit www.scottyslittlesoldiers.co.uk.
Notes to editors
To speak to a member of the Scotty's Little Soldiers team, please contact Scotty's national PR agency: Claire Lomax (claire@wolfstarconsultancy.com) or Chris Grayson (chrisg@wolfstarconsultancy.com) 0113 273 7816
About Scotty's Little Soldiers
Scotty's Little Soldiers, founded in 2010, honours Corporal Lee Scott's memory – both as a loyal soldier and a loving father – and provides a practical yet personal way for the public at large to show their appreciation for those brave individuals who make the ultimate sacrifice in the service of their country. Currently Scotty's Little Soldiers supports 368 bereaved children and runs a variety of programmes to help children smile again and look forward to a brighter future. You can visit the charity online at www.scottyslittlesoldiers.co.uk.