Nikki Scott, the founder of children's Armed Forces charity Scotty's Little Soldiers has been honoured by The Independent as one of the UK's most inspiring people.
Nikki, who set up Scotty's Little Soldiers in 2010 following the death of her husband and father to her two children, Corporal Lee Scott, was included in this year's Happy List promoted by The Independent.
Now in its 11th year, the Happy List shines a light on the great Britons whose extraordinary efforts are for no personal gain, and who often go unrecognised outside their own communities.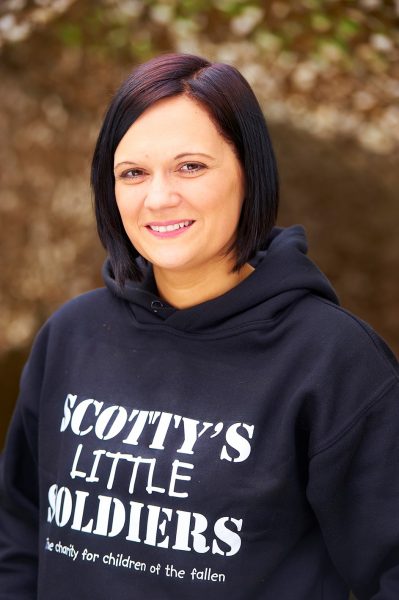 It celebrates 50 people from the UK who make Britain a happier place through volunteering, mentoring and selflessness.
The list is compiled through nominations from the general public.
Commenting on her nomination, Nikki said:
"I'm thrilled to have been nominated and recognised by this list, it came as a huge surprise and I'm so incredibly honoured. I set up Scotty's Little Soldiers after I lost my husband ten years ago this year and since then the charity has continued to grow to now support over 370 bereaved Armed Forces children.

"After I lost Lee, I saw first-hand how it impacted my two young children. There was no support for them, so I set up Scotty's initially to help children who had lost a parent in the British Armed Forces smile again. I soon realised there was much more which needed to be done for these children, who at such a young age had experienced so much. Scotty's now provides members and families an integral support network where they can meet and talk with other families going through the same thing.

"I'm extremely passionate about what I do and the children we help, and I hope that being recognised in this list will help reach other bereaved Forces children who may not be aware that Scotty's is there for them."
Scotty's Little Soldiers provides its members with support and guidance throughout their childhood and offers a respite, however brief, from the daily ups and downs of coping with the loss of a parent. It does this through three programmes. 'Smiles' offers children the opportunity to smile and laugh again through a wide range of activities and gifts. The 'Support' programme aims to assist with the more emotional side of bereavement and includes access to professional counselling and a family support network. The 'Strides' programme helps with the charity's members personal development and includes a range of activity and educational grants.
Nikki's vision is for every bereaved British Armed Forces child to have access to the very best emotional support, outstanding development opportunities and the chance to smile again.
For more information on Scotty's Little Soldiers visit www.scottyslittlesoldiers.co.uk
Notes to editors
To speak to a member of the Scotty's Little Soldiers team, please contact Scotty's national PR agency: Claire Lomax (claire@wolfstarconsultancy.com) or Chris Grayson (chrisg@wolfstarconsultancy.com) 0113 273 7816.
About Scotty's Little Soldiers
Scotty's Little Soldiers, founded in 2010, honours Corporal Lee Scott's memory – both as a loyal soldier and a loving father – and provides a practical yet personal way for the public at large to show their appreciation for those brave individuals who make the ultimate sacrifice in the service of their country. Currently Scotty's Little Soldiers supports 372 bereaved children and runs a variety of programmes to help children smile again and look forward to a brighter future. You can visit the charity online at http://www.scottyslittlesoldiers.co.uk/