170 households across the country came together virtually last weekend, all for one cause – Scotty's Little Soldiers.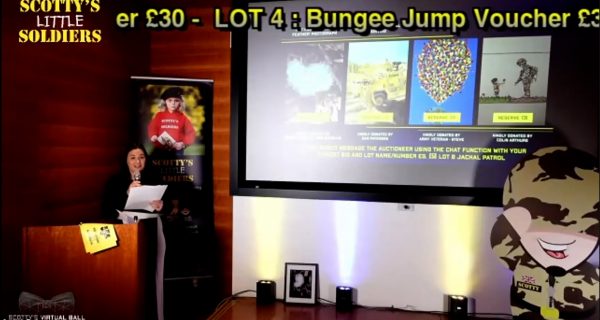 The charity, which marks its 10th anniversary this year, hosted its first ever virtual ball on Saturday (28 November), welcoming supporters to enjoy the celebrations from the comfort of their own home.
The event, which was sponsored by Incentive FM, and replaced the charity's regular annual event, was broadcast live on Zoom from Somerset House. The event raised a staggering £12,818 for Scotty's. All money raised will help the charity continue to deliver a high level of support to hundreds of children and young people across the UK who have lost a parent who served in the British Armed Forces.
Hosted by creative events company Sharky and George, guests were treated to a whole host of entertainment throughout the evening, including jaw dropping magic from 2016 Britain's Got Talent winner and Scotty's ambassador Richard Jones, a soulful music rendition from 2020 Britain's Got Talent semi-finalists Soldiers of Swing, and uplifting tunes from much loved Scotty's Ball regulars, The Late Shift.
It is estimated that around 300 people took part, spread across the 170 households that logged in via Zoom. Guests were brought to their feet with fun and games, while the silent auction and raffle provided an opportunity for them to show their support by pledging a donation to the charity. The raffle included a week's stay in a traditionally built gite in the beautiful Loire Valley in France, courtesy of Nicky and Mike Light from Loire Valley Gites.
Throughout the evening, guests also had the opportunity to meet some of the children supported by the charity. Scotty members, 12-year-old Brooke Scott, 12-year-old Ben O'Donnell, 10-year-old Austen Hargreaves, 15-year-old Libby Cornish and 12-year-old Jamie Small all lost their dads when they were very young and over the years have found solace in the support network created by Scotty's Little Soldiers.
Each one gave a pre-recorded, heartfelt speech to guests about what the charity means to them and why it was so important to raise as much money as possible.
In his video, Austen Hargreaves, who lost his dad, Staff Sergeant Chris Hargreaves in 2017, said:
"Scotty's is more than just a group that helps you, they understand, they are more like a family. I know so many people and have made so many friends. Scotty's is such a big part of my life."
The pinnacle of the evening was a moving speech delivered by Scotty's founder, Nikki Scott, live from Somerset House. In her speech, Nikki thanked everyone for their incredible support over the past 10 years, since Scotty's began. She said: "I love that we've been joined by so many of our supporters on this special evening, both old and new. I thank you so much for being here and for pledging your support to Scotty's.
"This year marks a big milestone, it's our 10th anniversary. 10 years since we started the charity and what a journey it's been. I remember the very start, sitting in my dining room in my married quarters in Tidworth, with my brother Stuart, some family, and friends, and telling them about this idea I had. It hadn't quite been a year since we lost Lee, but already I'd witnessed the devasting affects his death had on our son Kai. Kai was just five years old when Lee was killed and sitting on his bed that day to tell him that daddy would never be coming home was one of the hardest things I've ever had to do. In that moment I shattered his world. I knew at that moment that something had to be done to support the children our heroes have left behind, and I'm so proud of what we've achieved."
Nikki set up Scotty's Little Soldiers in 2010 after her husband, Corporal Lee Scott, was killed in action in 2009. Nikki saw the devastating impact on their two young children and wanted to help others in the same situation.
The charity arranges for bereaved Forces families to go on respite breaks, organises special events, sends presents to the children at extra difficult times of year, offers wellbeing care, as well as educational support and grants. Being part of the Scotty community reminds hundreds of bereaved Forces children they are not alone.
Stuart Robinson, Scotty's CEO, said of the event:
"We've held a ball every year since Scotty's began and it's always a great evening, providing an opportunity for our supporters to come together, have a good time, and pledge their support. It was disappointing not to be able to get together in the way we usually would, particularly with this being our 10th anniversary, but we are really pleased with the amount of people that joined the virtual ball. The regular ball usually generates a profit of around £30,000, so in these challenging times, to raise over £12,000 is incredible. We are so grateful to everyone who took part, and we hope we will see everyone in person at next year's ball, which will take place on Saturday 23 October."
To learn more about Scotty's Little Soldiers visit: www.scottyslittlesoldiers.co.uk/
To find out more about next year's ball, and to buy your ticket, go to: https://scottyslittlesoldiers.bigcartel.com/category/events