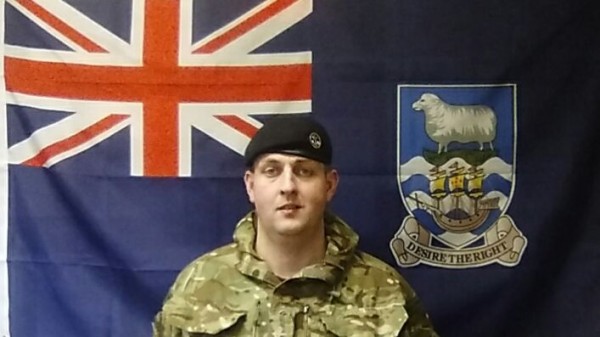 A Service policeman from Liverpool has completed a 35 mile charity walk in the Falkland Islands for Blind Veterans UK, the national charity for vision-impaired ex-Service men and women.
Gareth Bloodworth, 31 and from Stoneycroft, arranged the challenge in a bid to tests his organisational capabilities. He explains: "I wanted to test my resourcing and communication skills, and also develop my ability to organise an event involving Service personnel."
Gareth serves in the Royal Navy Police as a Service policeman. His role includes conducting general policing duties and he was until recently stationed in the Falkland Islands, hence the location of the ultra-challenge.
Of the event itself, Gareth recalls: "We started at 07:25 on June 9 from the main gate of Mount Pleasant Complex. There were 13 of us in total, including three supporter workers who accompanied in two vehicles!
"We were probably with each other for the first three to five miles, but after that we began to separate and establish our own individual paces."
Gareth continues: "The weather was predictably unpredictable. We had rain and sun, with a bit of snow thrown in for good measure!
"I personally found the 25 mile point the most mentally demanding. My legs had turned to lead and my feet felt as if they were being crushed. As you can imagine, walking became quite a challenge!
"Fortunately, once I'd changed from my boots into my personal trainers I was able to find some comfort to push through the remaining ten miles. My friend and I arrived at Hillside, an adventures training centre in Stanley, at 5:30pm – a total walking time of ten hours and five minutes."
Despite the sheer exhaustion, Gareth admits he struggled to contain his happiness at having completed the walk. He says: "I was very tired however I felt a great sense of achievement along with everyone else.
"All in all we've raised £367.03 which is fantastic. Blind Veterans UK performs an important role in making sure those who serve our country are not left to battle blindness alone, so I'm honoured to help them achieve this goal."
If reading Gareth's story has inspired you to donate to Blind Veterans UK, please visit: blindveterans.org.uk/what-you-can-do/donate/make-a-donation/make-a-donation.
Blind Veterans UK was founded in 1915 and the charity's initial purpose was to help and support soldiers blinded in the First World War. But the organisation has gone on to support more than 35,000 blind veterans and their families, spanning WWII to recent conflicts including Iraq and Afghanistan.
Blind Veterans UK currently supports over 4,500 veterans, more than ever before in the charity's history. The charity has set an ambitious target to double the number of veterans receiving its life changing support by 2022.
For more than a century, the charity has been providing vital free training, rehabilitation, equipment and emotional support to blind and vision-impaired veterans no matter when they served or how they lost their sight. Visit blindveterans.org.uk/support to learn more about the charity and how you can support its vital work today.
For all media enquiries please contact: Felix Arbenz-Caines, PR Assistant, Blind Veterans UK, 12 – 14 Harcourt Street, London, W1H 4HD, E: Felix.Arbenz-Caines@blindveterans.org.uk, T: 020 7616 7941
Notes to Editor
Blind Veterans UK
Blind Veterans UK is a national charity that believes that no-one who has served our country should have to battle blindness alone. Founded in 1915, the charity provides blind and vision impaired ex-Service men and women with lifelong support including welfare support, rehabilitation, training, residential and respite care.
Find out more at: blindveterans.org.uk, follow us on Facebook at: facebook.com/blindveteransuk and on Twitter at: twitter.com/blindveterans.