The Williams family from Penistone love doing things together, so it seemed only right that nine-year-old Molly would join her dad in his fundraising challenge for the Royal Air Forces Association.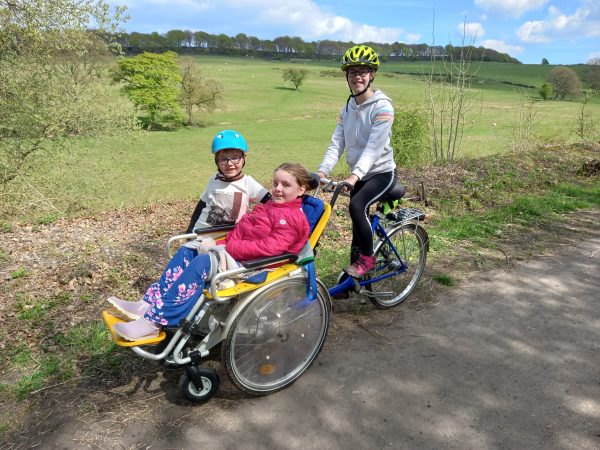 Molly has spinal muscular atrophy (SMA), so despite not being able to walk, she is joining her dad Julian as he attempts to walk 100 miles in 24 hours. She will be taking part using her Duet Tandem Wheelchair bicycle, with the help of her mum May, sister Anya (11) and brother Edmund (7). They will complete 84 laps of the athletics track: one lap for every night Molly has spent in critical care.
The challenge will take place on Saturday 28 and Sunday 29 May, at the English Institute of Sport & Olympic Legacy Park, in Sheffield.
Talking of her condition, Molly said:
"SMA is a form of motor neurone disease, and I am a full-time wheelchair user. I know I will never walk, stand or even sit without support. I have already had two ten-hour surgeries at Sheffield Children's Hospital. I have had my spine straightened with metal rods, both hips reconstructed and more emergency admissions than I can remember. Sometimes I need a special mask-and-air to help me breathe, and lots of other kit to get me through each day."
As Julian served in the Royal Air Force, he was put in touch with the RAF Association back in 2014 when he and his wife May realised they needed extra support to afford the many adaptations they needed to their new house, as well as a wheelchair-accessible car for the family.
Molly said:
"Dad didn't expect the incredible response and generosity we have received. The RAF Association has supported me in so many ways; including my first wheelchair-accessible vehicle, meaning I could go out in my chair for the first time beyond my home town. They also helped provide a specialist bath, which lowers me safely and comfortably into the water – which is lovely after all the pain of my surgeries. It is difficult to put into words, how grateful we are to the Association, and we want to give something back."
Julian added:
"The support we've had is overwhelming, so hopefully we can all raise lots of money to help the Association be there for other families who need them. I'm confident I can complete the challenge, but a little nervous as I've never done anything like this before. I considered running a marathon, but lots of people do that, so I wanted to do something a bit different. The fact that we're doing this as a family means we can support each other through the tough bits, just like we do every day."
You can support the Williams family with their fundraising by visiting https://www.justgiving.com/fundraising/100miles4molly