The mission of bereaved children's military charity, Scotty's Little Soldiers, is to #MakeTheirChildrenSmile, and that is exactly what last week's virtual festival did.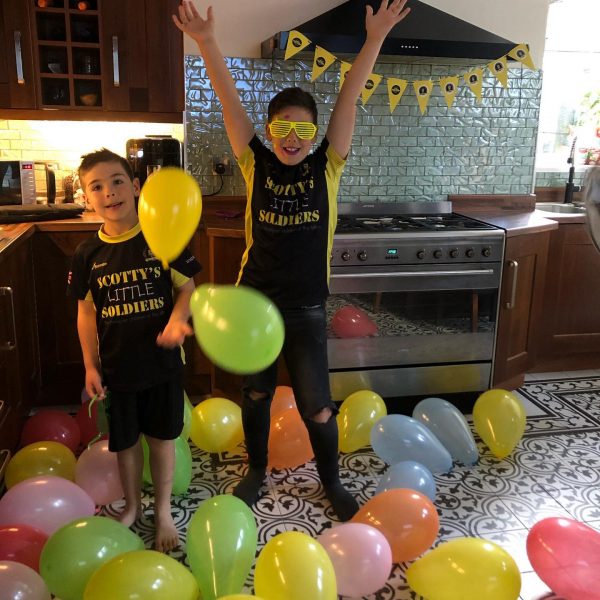 94 children, all who have lost a parent who served in the British Armed Forces, joined a virtual festival via Zoom and partied away, for a fun-filled 90 minutes.
The festival, hosted by top event organisers, Sharky and George, was action packed with music from Bear Club who performed live from the Corn Exchange in King's Lynn, there was incredible magic from Britain's Got Talent winner Richard Jones, lots of games and dancing, and the kids got creative as they were taught how to make their very own juggling balls, as well as a homemade lava lamp!
None of this would have been possible without Your Local Paper and its readers. The newspaper based in King's Lynn, the hometown of Scotty's HQ, launched an appeal earlier in the summer to generate funds for the special virtual event. £1,585 was raised which went towards festival packs that were sent to the children ahead of the festival. The packs contained thunder sticks, face paints, whistles, balloons, sweets, bubbles, glow sticks, glasses, a Scotty's branded wrist band and lots more.
Nikki Scott, Scotty's Little Soldiers founder, said:
"It couldn't have gone any better. The kids were all laughing and smiling which was so incredible to see and made me feel quite emotional. Obviously virtual events are a new thing for us all, but it was remarkable how much the kids engaged. There was some serious partying going on and they loved the festival packs, which really made it special."
After the event, Laura Lockwood, mum to 10-year-old Bella and 8-year-old Evie, whose father died in 2014, said:
"The house was full of fun, laughter, dancing and singing. Just what was needed. Thank you to all at Scotty's for an epic summer festival."
Caroline Hill, mum to 10-year-old Sebastian, who has no memories of his dad who died in 2010, added:
"Scotty's Little Soldiers have done it again! Thanks to our Scotty's family for organising the Scotty's Virtual Festival. We loved it. Pure amazing! Love Richard Jones magic, George & Sharky team are awesome and the band Bear Club were amazing. We really enjoyed the bog roll boogie, fabulous lava lamp challenge and we loved making juggling balls!"
7-year-old Connor Savage also never knew his dad because his father was killed in action in Afghanistan when his mum Lynzy was pregnant. Lynzy said:
"The virtual festival was amazing and Connor had the best time! Seeing him smile like that makes me so happy! Thanks Scotty's."
Sarah Vickers, mum to 11-year-old Lily, who's dad died in 2011 when she was just a toddler, said:
"I have to say that was the best virtual festival ever! I mean we've never been to one before, but it was amazing, thank you so much Scotty's Little Soldiers for everything you do for our children, you really do have the best ideas. Thank you so much."
Nikki added: "We've had so much positive feedback from the families since the virtual festival. Events like this are really important because not only do they remind bereaved Forces children they aren't alone and haven't been forgotten, but we also find that the levels of engagement go up after an event. It's a great way to open the door and encourage families who are struggling to ask for help."
Nikki continued:
"Thank you so much to Your Local Paper for getting behind this, to everyone who donated, to Bear Club for their incredible live music, Richard Jones for his astonishing magic, Sharky and George for being amazing hosts, the King's Lynn Corn Exchange for allowing us to use their venue, the Appleton family from West Norfolk who provided a generous selection of gifts for the children, and to Morrisons for donating 100 little bags of Haribo sweets."
Jean-Anne, Events director at Sharky and George, said after the virtual festival:
"It was such a fun party. Fergus and George (who hosted the event) both agree it was the best virtual party we've ever done! That's saying something because they did loads of virtual parties over lockdown. I have to say, I absolutely loved it, the energy that was coming from every household was electric and so exciting. I didn't want it to end."
Alan Taylor from Your Local Paper added:
"We selected Scotty's Little Soldiers to be our Charity of The Year, so in such uncertain times we wanted to do something proactive to help. It's been amazing to see this all come together and we're so glad we've helped bring joy to children who have been through so much. Thanks to our readers for supporting this worthwhile cause."
Scotty's Little Soldiers continues to help children who have lost a parent who served in the British Armed Forces and does lots of things to support its members, including providing access to the very best health and wellbeing care, offering educational support, and delivering outstanding development opportunities through a range of activity and educational grants. Scotty's also helps put smiles back on those brave faces by providing respite breaks, posting the children birthday and Christmas presents and remembering the anniversary of their parent's death, as well as arranging events where bereaved Forces children from all over the UK come together to have a great time and form friendships with kids in the same situation.
It's not too late to show your support, if you'd like to make a donation please go   to https://www.justgiving.com/campaign/ylpscottysvirtualfestival or text YLPFEST to 70085 to donate £5*. Cheques are to be made payable to Scotty's Little Soldiers with the reference 'YLPFEST' on the reverse, or you can make a donation over the phone by calling 0800 092 8571.
* Texts are charged at £5 plus one standard rate message