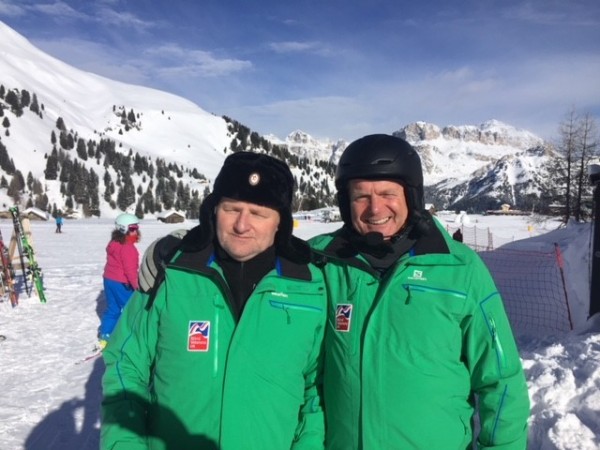 A blind veteran from Kent has been skiing in Canazei, Italy, with other vision-impaired Armed Forces veterans thanks to national military charity Blind Veterans UK.
Chris Strudwick, 53 and from Faversham, skied in the Dolomites mountain range with 24 other vision-impaired skiers as part of the charity's 41st annual ski trip.
Chris says: "This was my second time attending the Blind Veterans UK ski trip and it was absolutely amazing. It's a crazy experience because when else would you have two dozen blind people throwing themselves down mountains? That's the beautiful thing about the charity."
Chris joined the Irish Guards in 1981 and served in the UK until 1982, when he was medically discharged due to a broken leg.
Chris says: "I had several family members in the Forces and I followed in their footsteps by joining too. I remember that feeling of being part of a group, and it was something I missed a lot when I left."
Chris worked in a number of different jobs after being demobbed but was eventually made redundant in 2008. This coincided with his sight deteriorating due to diabetic retinopathy, something Chris found very difficult to deal with. He now has no vision in his right eye and just 5 to 10 per cent in his left eye.
Chris says: "I was in total denial at first. It was only when I was driving one day and trying to overtake a car that I realised I couldn't see what was coming towards me. I was shocked at how bad my sight had become.
"When the diagnosis came I was mentally in a very dark place. Imagine waking up every morning and rubbing your blurred eyes only to find that when you rub them, they stay blurred. That's my everyday existence."
Fortunately Chris found out about the support of Blind Veterans UK in 2014. He was initially hesitant about attending charity events or taking training, but his community support worker persuaded him to head to one of the charity's rehabilitation and training centres in Brighton.
Chris says: "It was brilliant. For the first time in a long time I wasn't alone with my sight loss. I met loads of other blind veterans, one of whom was 95 years old, and his resilience and humour really made an impression on me.
Since then Chris has been given training and equipment by Blind Veterans UK to help him adapt to his sight loss, and also received a grant to help him attend sports and swimming sessions.
Chris says: "Keeping fit and active has really helped me maintain a positive mind set and skiing is part of that. When I went skiing for the first ever time last year with Blind Veterans UK I realised how small my world had been. Suddenly I was in a place where I could be confident, try new things and make friends.
"My guide was absolutely brilliant, they gave me instructions through a special ear piece so that I could ski safely by myself. It was a really exhilarating experience."
He continues: "To others out there like me I'd say this: you don't need to battle sight loss alone. Blind Veterans UK has absolutely saved me."
Blind Veterans UK is the national charity for blind and vision-impaired ex-Service men and women, providing vital practical and emotional support to help veterans discover life beyond sight loss.
The charity is reaching out to the estimated more than 1,300 vision-impaired ex-Service men and women in Kent battling severe sight loss who could be eligible for support but don't currently realise it. Most of these veterans completed their service many years ago, and have since lost their sight due to conditions such as macular degeneration or glaucoma.
If you, or someone you know, served in the Armed Forces or did National Service and is now battling severe sight loss, find out how Blind Veterans UK could help by calling 0800 389 7979 or visiting blindveterans.org.uk.
ENDS
For all media enquiries please contact: Ruth Moore, Communications and Marketing Assistant, Blind Veterans UK, 12 – 14 Harcourt Street, London W1H 4HD, E: ruth.moore@blindveterans.org.uk, T: 020 7616 7955
Notes to Editor
Blind Veterans UK
Blind Veterans UK (formerly St Dunstan's) is a national charity that believes that no-one who has served our country should have to battle blindness alone. It provides blind and vision impaired ex-Service men and women with lifelong support including welfare support, rehabilitation, training, residential and respite care.
The charity needs £100 million over 5 years to provide lifelong support to blind ex-Service men and women. Find out more at: www.blindveterans.org.uk, and follow us on Facebook at: facebook.com/blindveteransuk and on Twitter at: twitter.com/blindveterans