On Wednesday 28 October, The Taxi Charity for Military Veterans was delighted to be asked by The Royal British Legion to take WWII veteran Frank Ashleigh to the socially distanced Festival of Remembrance at the Royal Albert Hall.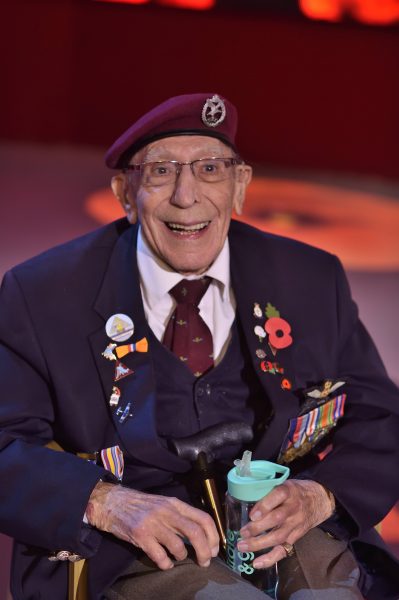 Normally, the 5,550 seat Albert Hall would be packed with audience members, veterans and parades of servicemen and women for the annual event hosted by the Royal British Legion. But this year, due to the pandemic, all that changed. There was no audience, the number of participants was reduced, and everything was pre-recorded to ensure social distancing was observed and not too many people were in the venue at the same time.
Invited by the Royal British Legion, WWII veteran Frank Ashleigh, 95, was picked up from his home in Kingsbury, by London Cabbie Paul Roberts and Taxi Charity Vice president Dick Goodwin and was one of only seven veterans to attend this pre-recording of the Festival.
Frank Ashleigh, said,
"It was a real honour to have been invited to the recording of the Festival of Remembrance with just six other veterans who represented all branches of the services The Festival of Remembrance is always a highlight for me, this year during the pandemic it might not have been enjoyed by the usual thousands inside the Albert Hall but it remained a very poignant way to remember the fallen. I can describe my experience quite simply as brilliant, breath taking and personal."
During WWII Frank was an Army Air Corps glider pilot who flew into Arnhem on 17 September 1944, aged just nineteen, as part of Operation Market Garden. He later went on a reconnaissance mission with two other glider pilots to discover where and how powerful the Germans were. Hiding themselves within a Church they persuaded one of the pilots who had been shot in the stomach to surrender and received much needed medical treatment and he left the church with his hands up. Unfortunately, Frank and the other pilot were discovered shortly afterwards by the Germans while hiding in the bell tower and were instructed to surrender or face a barrage of grenades. They were taken prisoner and having not eaten for four days were relieved that with within ten minutes the Germans had brought them a plate of food each. Frank was taken to the POW camp Stalag Luft 7 until January 1945 when as part of the Long March he was moved to Stalag Luft III, where he remained until the end of the war.
Franks co-pilot and closest friend Bernard "Lofty" Cummins was killed about two miles away from Frank on the very day that Frank was captured. Frank says
"Lofty and I did everything together, we ate, slept and chased girls together and he was the best friend anyone could ever have – we trusted each other totally. At the Festival of Remembrance Lofty was very much in my thoughts."
Dick Goodwin, Vice President of The Taxi Charity for Military Veterans, said,
"It was a privilege to take Frank to the Royal Albert Hall. I have known him for over ten years, and he joins the Taxi Charity on our many of our trips including those to Arnhem/Oosterbeek.  We always make sure that Frank has time to visit the Commonwealth graves near Oosterbeek where his great friend Lofty Cummins is buried."
The Festival of Remembrance was aired on Saturday 7 November as part of the BBC's schedule for Remembrance Sunday