A team of enthusiastic charity supporters from the Joint Helicopter Support Squadron (JHSS), based at RAF Benson, Oxfordshire, are raising money for SSAFA, the Armed Forces Charity, by cycling from Land's End to John O'Groats.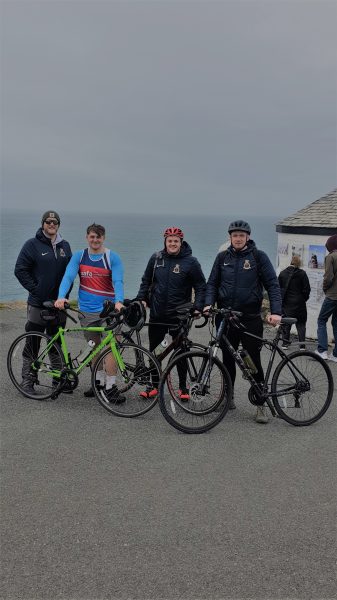 The men are a week into the challenge and going strong. They have smashed their fundraising goal and have so far raised over £1,000.
Jack Waller, from Weymouth, said:
"I'm the support element; driving, pitching tents and, despite being the worst cook, I'll be providing dinner. We are aiming to complete the challenge in two and a half weeks, it's 1200 miles and, despite the setbacks, we are on track at the moment.

"None of us are experienced cyclists, however, what we lack in experience, we more than make up for in enthusiasm."
There have already been some set-backs; their tents blew off on the first night, followed by a few punctures and the next campsite flooding overnight.
Brad Tallet, from Derby, said:
"The thing with being in the military is that it gives you a positive mindset. If something slows us down, we just put int a few extra miles the next day. And we are used to being cold and wet."
As a whole, the team are most looking forwards to the scenery in the Scottish Highlands and the Lake District.
Brad Wright, from Peterborough, said:
"The weather has been grim so far though. I'm hoping it improves the further north we go. The thought of getting home to my family is keeping me going at the moment."
With 11 days to go, the team will likely see all kinds of weather throughout the United Kingdom. The friends are busy keeping up morale with banter.
Rob Hughes, from Darlington said:
"Despite being the fastest cyclist in the team, Brad Tallet has being moaning that he can't fully recover in a tent. But on the first night, when everyone's tents blew away, he was the only one of us to get any sleep."
If you would like to boost the team's morale and help a good cause donate here: https://www.justgiving.com/page/cycle4ssafa